Do you know what Digisom Ransomware is?
If you ever discover a program that goes by the name of Digisom Ransomware, do not waste any time and conduct its complete removal as soon as possible. It is crucial to do so as this intrusive program works in an extremely malicious manner, to put it lightly. It can quickly and without any authorization lock a huge amount of your personal files and then ask a ransom in return for a decryption procedure. It should be more than obvious that losing large amounts of important data could have devastating outcomes. If you want to protect your personal computer from this malicious program make sure to read the rest of this report as we present a few virtual security tips that you should take to have a fully secure operating system at all times. Alongside such information, we also present our further findings regarding its malicious functionality and its detailed removal guide. Do not take any chances and conduct a complete removal of Digisom Ransomware right away.
Digisom Ransomware works in a rather simple manner. Its overall functionality resembles the inner workings of all other ransomware programs that are active nowadays. Just like any of its contemporary counterparts, it will start doing its dirty works at the very same time that this dubious program gains full and successful access to your operating system. During our research, it has been discovered that this malicious program locks the majority of text, image, and video files on your hard drive. The whole procedure is utterly silent. This feature of this malware is embedded by malware developers consciously so unsuspecting Internet users would not know what kind of procedure is taking place on their operating system. Every single file affected by this malware will be tagged with a 7xV.x extension. After the data on your PC is locked, you will be presented with a warning message, which will urge you not to not close it and look for further information on your desktop where you will find a ransom note in the form of a .txt file. Within you will be informed about what has happened. You will also be asked to pay a ransom of 0.2 Bitcoin, which is about $200, in return for a decryption procedure. Even if you feel tempted to make the payment to save your data, you need to know that there is no guarantee to know that cyber crooks will actually decrypt your files since they are not bound in any legal way to do that even if you happen to pay up. Do not waste any time and conduct the complete removal of Digisom Ransomware at the very same time that you discover it active on your personal computer.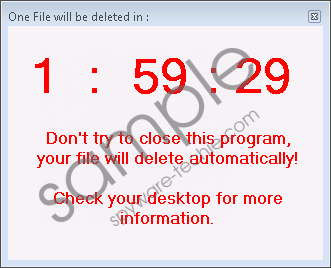 Digisom Ransomware screenshot
Scroll down for full removal instructions
If virtual security is your utmost priority, you must take preventative steps to maintain a fully secure at all times. During our research, malware experts working at Spyware-Techie.com have discovered that Digisom Ransomware is mostly distributed via spam e-mail attachments. Due to this, we highly advise you to be extra careful will all e-mail attachments. You will significantly reduce the chances of infecting your personal computer with this malicious program by simply refraining from all attachments coming your way from unknown sources. In other cases, the devious program in question could be spread via bundled installers, which are notoriously favored by malware developers as a means to spread their devious software. You can limit the chances of coming across dangerous setup files by downloading all of your programs from authorized developers' websites only. Finally, but most importantly, to keep your personal computer safe and secure at all times, you need to install a professional antimalware tool. Such a tool is critical as it can detect and warn you in advance about any suspicious content on your PC or online.
It is important to delete Digisom Ransomware as soon as it is found up and running on your PC. This way you might even be able to limit the data loss triggered by this malicious program. To stop its intrusive functionality entirely, you need to remove its every single bit. To be sure that no leftovers of this ransomware are active after you are done with the manual removal. It is important to do so because traces of Digisom Ransomware could be enough for it to function. In other instances, those same leftovers could be used to silently restore it.
How to remove Digisom Ransomware from your PC
Open the File Explorer.
Navigate to C:\Users\(your username)\Downloads.
Right-click a malicious .exe file and then select Delete. Remember that the name of this file is random.
In non-techie terms:
Our research team is well aware of the fact that the manual removal of Digisom Ransomware might seem a bit too complicated for users without advanced computer knowledge. If you happen to be one of those users, do not worry. Below you can find an alternative removal guide that will help you delete this malicious program in an automated manner.