Do you know what DigiSmirkz Toolbar is?
A number of toolbars developed by Mindspark Interactive Network, Inc. turn out to be untrustworthy, so specialists have decided to test DigiSmirkz Toolbar thoroughly too to find out what users can expect from it. It has become clear immediately that this browser plugin is not malicious. Unfortunately, it cannot be called fully reliable too. First of all, it has been found that it often comes from pop-ups, i.e. it is automatically installed on systems when users click on certain pop-ups they come across when surfing the web. Second, in reality, it is not as beneficial as it might seem to be after reading its description on its official website digismirkz.com. Third, users report that undesirable changes are applied to all their browsers after installing DigiSmirkz Toolbar, which proves that they are directly associated with this browser plugin. These changes applied can be undone only by getting rid of this application. Read what our team of specialists have found about DigiSmirkz Toolbar, and make a final decision about its destiny.
Even though there are people who get DigiSmirkz Toolbar after clicking on a pop-up, some of them install this piece of software voluntarily because it is promoted as a free application that provides emoticons that can be used in emails and blog posts. Also, it promises to make it easier to connect to Facebook and other popular websites. If we blindly believed the information provided on its official website, we would say that it is a perfect application. Unfortunately, we cannot do that now because research carried out by our specialists has clearly shown that this piece of software is not the most trustworthy. First of all, it sets a new website http://hp.myway.com/digismirkz/ttab02/index.html as a homepage and New Tab URL after entering the system. Not all the users know that changes are going to be applied to their browsers, especially if they do not get DigiSmirkz Toolbar from its official website, so many people find those changes extremely irritating. It is, actually, not the only problem linked to this website. Specialists say that it might be quite dangerous to use it as a search tool even though it does not differ much from other ordinary search providers the way it looks. They say so because they have spotted advertisements on its search results page. Since these ads can redirect users to third-party websites, the chances of being taken to dubious websites are quite high too. The presence of ads is not the worst thing. It has also been found that the search engine of DigiSmirkz Toolbar might also record information about users, mainly, non-personally identifiable information about the users' behavior on the web. It is not a very disturbing finding because even fully trustworthy search tools do that; however, it is not very normal that the gathered data is going to be disclosed to business partners, service providers, advertisers, ad-networks, and other associates. Therefore, users should think carefully before making the final decision regarding the presence of the DigiSmirkz browser extension.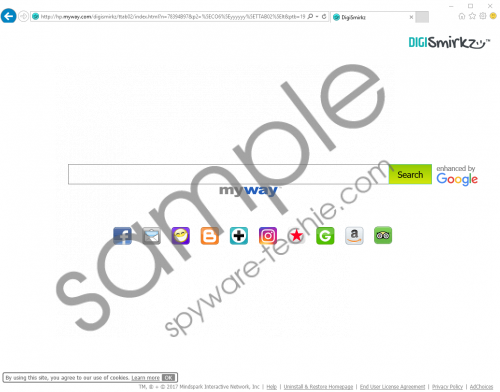 DigiSmirkz Toolbar screenshot
Scroll down for full removal instructions
Programs that fall into the category of potentially unwanted programs often have more than one source they can be downloaded from, and users constantly make complaints about their illegal appearance on their PCs. The same can be said about DigiSmirkz Toolbar. Even though it has an official website it can be downloaded from, users might find it installed on their systems after clicking on a certain pop-up advertisement too. It is, definitely, not a fair software distribution method. Actually, no matter where people get this browser plugin from, they quickly realize that it is not as beneficial as it claims to be. It only provides users with third-party links leading to various third-party websites, including pages where emoticons can be downloaded from.
DigiSmirkz Toolbar is not a malicious application, but it might still contribute to the emergence of a number of problems, so it would be smart to delete it, especially if it has made its appearance on your computer without permission. Users whose default browser is Internet Explorer can erase it through Control Panel, but people using Mozilla Firefox and Google Chrome are not so lucky because they need to delete the DigiSmirkz extension from each of these browsers separately. Follow the step-by-step removal guide located below to get some help.
Delete DigiSmirkz Toolbar
Google Chrome
Open your Google Chrome web browser.
Press Alt+F simultaneously and click More tools.
Open Extensions.
Locate the extension you need to remove and click on it.
Click the trash button next to it and then click Remove in the pop-up confirmation window.
Mozilla Firefox
Open Mozilla Firefox.
Press Alt+T and select Add-ons.
Open Extensions.
Select the extension and go to delete it.
Internet Explorer
Launch Run (Win+R), type Control Panel in the empty field, and click OK.
Select Add or Remove Programs (Windows XP) or Uninstall a program (Windows 7/8/8.1/10).
Select DigiSmirkz and click Remove (Windows XP) or Uninstall (Windows 7/8/8.1/10).
In non-techie terms:
It does not mean that you cannot encounter another suspicious browser plugin again if you fully remove DigiSmirkz Toolbar, so security specialists suggest that you ensure the maximum protection of your computer by installing a legitimate security application right after the removal of the DigiSmirkz browser extension. Ignore ads that appear on your screen when you surf third-party websites too, especially if they offer to install "beneficial software", specialists say.