Do you know what DigiHelp is?
Our virtual security researchers indicate that DigiHelp is an advertisement-supported program. The application cannot corrupt IE, Firefox, or Chrome browsers without permission, and computer users download it themselves. Of course, they would not choose to install this program if they knew how it worked. Have you downloaded the application thinking that it will produce authentic shopping deals? If this was the case, we would not advise you to delete DigiHelp from your web browsers and your PC. As our researchers have discovered, the suspicious application may present legitimate offers; however, it is much more likely to display worthless and even misleading advertisements.
Before we tackle the removal of DigiHelp, we want to discuss the infiltration of this suspicious program. When analyzing the program, it has been discovered that the installer presented on digihelp.info does not work. Instead of using an official download channel, the developer (SuperWeb LLC) of the adware has decided to trust third-party distributors. DigiHelp, Faster Light, Hold Page, Daring Deals, and tons of other identical advertisement-supported programs that users should remove are usually offered to Windows users who try to download other software. For example, you may be offered to install the add-on when downloading some fictitious software or updates. Unfortunately, in most cases, the app will be installed with other unreliable and undesirable applications that users will need to delete. So, if you have removed DigiHelp already, you need to check if other threats do not require removal as well.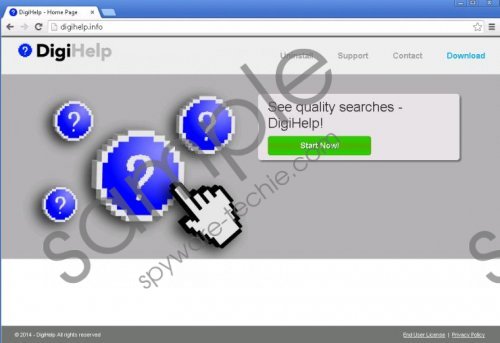 DigiHelp screenshot
Scroll down for full removal instructions
Luckily, DigiHelp is not a clandestine threat, and you should figure out that it has been installed as soon as the first pop-up and banner ads appear, even if the application has been installed accidentally. Of course, not all computer users know how to delete DigiHelp from their operating systems. Those with little or no experience should still be able to delete the undesirable application manually. Unfortunately, the removal of other threats is less predictable. We recommend investing in a reliable security tool that will protect you and will automatically delete all active threats.
Delete DigiHelp from Windows
Delete from Windows XP:
Click the Start button on the left of the Taskbar.
Click Control Panel to access a menu with more options.
Double-click Add or Remove Programs.
Select and Remove the undesirable application.
Delete from Windows Vista/Windows 7:
To open the Start menu, click the Windows logo on the Taskbar.
Open the Control Panel menu and select Uninstall a program.
Right-click the program you want to remove from your PC.
Select Uninstall.
Delete from Windows 8:
Right-click on the Metro UI menu to open a new tab and click All apps.
Open the Control Panel menu and click Uninstall a program.
Now right-click the application you wish to remove and select Uninstall.
In non-techie terms:
DigiHelp is not a helpful browser extension. It is an advertisement-supported program that you need to delete from your personal computer. Our malware researchers recommend installing a legitimate, automatic malware removal tool to detect and delete the active threats. Even though most users will be able to remove DigiHelp manually, not all will manage to remove other threats. Of course, this depends on the infections installed together with adware; however, chances are that you will need to delete other apps.