Do you know what DigiCoupon is?
DigiCoupon is an adware application that floods you with annoying commercial advertisements. If you access the official homepage at digicoupon.info, you will be told that DigiCoupon "browser add-on gets you all the digital coupons available from your favorite online shopping sites. In less time, you are faced with the best choices and prepare to pick the best deal that is suited for you and your budget." Unfortunately, these claims are false; you users have to remove DigiCoupon from their computers because this application is useless.
DigiCoupon merely takes up space on your hard drive. Granted, the application is very small, and it is not a direct computer security threat, but there is no need to keep a program that cannot live up to its promises. DigiCoupon is directly related to AllTubeNoAds application, and both apps add extensions to Google Chrome, Mozilla Firefox and Internet Explorer web browsers. With DigiCoupon add-on your default browser, you will be exposed to a variety of annoying commercial advertisements each time you access popular online shopping mall (Amazon, BestBuy, eBay, etc.). Not only do these pop-up ads disrupt your online browsing process, but they can also expose you to potentially harmful content.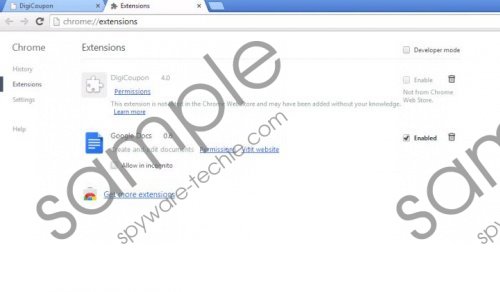 DigiCoupon screenshot
Scroll down for full removal instructions
The best way to avoid potential computer security threats is to stay away from unfamiliar commercial websites. DigiCoupon is distributed bundled with freeware via DomalQ installer. A lot of adware programs can be installed on a computer in a go, especially when users download fake Adobe Flash codecs or media player updates. There are a lot of flash ads that promote various Flash or Java plug-in updates on random websites. Clicking these ads will do no good, because Adobe Flash and any other plug-in should be updated via original websites. Downloading a fake update will only result in installing adware on your PC.
The key feature of DigiCoupon is the fact that this application generates its name at random. It means that you may see this program listed on Control Panel as DiGeiCouupon, DiGeiCouupon, DiGeiCouupon, DiGeiCouupon and so on and so forth. It is still the same program, and you have to get rid of it immediately because having an adware application on your system is not safe!
Remove DigiCoupon before cybercriminals manage to make use of the application infiltrate your system. Open Control Panel and uninstall the application manually. Keep in mind that extensions on Mozilla Firefox and Google Chrome web browsers remain even after manual removal, so you will have to get rid of them via browser settings. Finally, scan the system with a licensed antispyware program, thus ensuring that all the potentially unwanted applications will be removed from your PC for good.
How to uninstall DigiCoupon
Windows 8
Move mouse cursor to the bottom right of your screen.
Click Settings and go to Control Panel.
Select Uninstall a program and remove DigiCoupon.
Windows Vista & Windows 7
Open Start menu and click Control panel.
Go to Uninstall a program and remove DigiCoupon.
Windows XP
Press Windows key and go to Control panel.
Select Add or remove programs and uninstall DigiCoupon.
Delete DigiCoupon from your browser
Google Chrome
Press Alt+F and go to Settings.
Open Extensions and remove DigiCoupon from the list.
Mozilla Firefox
Press Alt+T and click Add-ons.
Disable and remove DigiCoupon from Extensions. Restart browser.
You can also refer to another set of instructions below this article for a full removal of unwanted programs. What is more, we always welcome any kind of questions on computer security and malware removal.
In non-techie terms:
DigiCoupon is a program that displays annoying pop-ups and exposes you to potential threats. Your PC security should be your utmost priority, so the sooner you get rid of this adware application the better.