Do you know what DietRunner is?
If you installed DietRunner thinking that it will provide you with diets and tips about healthy lifestyle, we have to disappoint you because the application has other goals. To begin with, this software was classified as adware because it displays pop-ups with commercial ads, sponsored links, and other content, although it is supposed to show you diet plans. The pop-ups provided by this application could redirect you to potentially harmful websites that could be dangerous to your computer. If you do not want to make your system vulnerable to malware, you should remove the program from your computer. Provided that you need guidance in this process, you may want to take a look at the instructions available below the text.
There is a slim chance, but if you downloaded the adware from dietrunner.com, you might have other adware programs, browser hijacker, etc. on your system. It is possible since the installer from the official site could be bundled with Sweet-page.com, MyPcBackUp, Yoursearching.com or other questionable software. However, it is more believable that the application appeared just around that time you installed some freeware. If you download free software from unreliable file-sharing websites, you should know that they could be bundled with programs like DietRunner. It simply appears on the setup wizard, and you can deselect it if you do not want it to be installed. Unfortunately, most of the users tend to overlook suggested programs and end up installing suspicious applications without realizing it.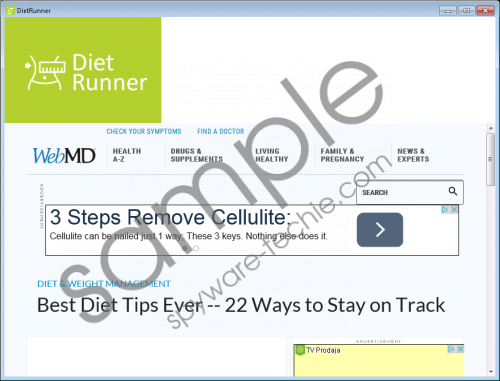 DietRunner screenshot
Scroll down for full removal instructions
On the software's official site it says "Download to connect with Diet Plans!" but when you install the application, it launches its window and redirects you to webmd.com/drugs/index-drugs.aspx. As you might have noticed yourself, there are no diet plans on the website, just suspicious ads that offer to reveal secrets about how to become slim or commercial ads that could suggest purchasing medication. Moreover, once launched, DietRunner will open a browser window without your permission. It could redirect you to third-party websites that could display suspicious content.
In the application's Privacy Policy it says that it may serve advertisements by themselves or allow other companies to do so. These companies are called as third-party ad servers or ad networks. With a huge amount of ads from third-party advertisers, it is possible that some of the pop-ups could redirect you to sites with malicious content. Although we cannot be a hundred percent sure that once you click a pop-up, you will be redirected to a site that contains malware, we do not think it would be wise to leave such application on your computer until something goes wrong. If you want to secure your system, you should never take chances with suspicious programs as adware, browser hijacker, etc.
Any users who wish to remove this adware could delete it manually with the instructions provided below the text. For this option, you would have to open the Control Panel, locate the unwanted program and choose the uninstall option. Luckily, our researchers confirmed that removing the adware with Control Panel leaves no junk files. Naturally, if you are looking for an easier way we can suggest you to download an antimalware tool. Once the tool is installed, you could perform a system scan, and the software will find all the threats on your computer in a few minutes. After the scan is complete you can delete the threats it found at the same time with only one mouse click. Also, if you keep your security tool updated, it should protect you from similar and even more harmful malware in the future.
Remove DietRunner
Windows 8/Windows 10
Press Win+R to launch the RUN.
Type Control Panel and select OK.
Click Uninstall a program.
Select DietRunner and click Uninstall.
Windows Vista/Windows 7
Click the Start menu and open Control Panel.
Choose Uninstall a program.
Click the adware and press Uninstall.
Windows XP
Got to Start and click Control Panel.
Select Add or Remove Programs.
Mark the application and choose Uninstall.
In non-techie terms:
The application has zero useful tools or any other benefits for its users, but if you keep it on your computer, it may become vulnerable to malware. Therefore, we would advise you to delete it before anything bad happens. If you wish to remove it manually, then use the instructions provided above. As for automatic deletion option, we could recommend you installing a legitimate security tool that will locate and delete not only DietRunner, but also other suspicious software that could be in your system.