Do you know what Diamond Computer Encryption Ransomware is?
If you no longer have access to the majority of your data, it is a significant indication that Diamond Computer Encryption Ransomware is up and running on your PC. If unfortunately, that is the case, you need to take action immediately to delete it. Programs classified by malware experts as ransomware are extremely harmful. They are designed for a sole purpose of encrypting large quantities of files on the affected operating system. Having such malicious application could be especially devastating if you use your computer for work. In our report, we provide thorough information regarding the overall functionality of this malware. Additionally, you will find virtual security recommendations, which will help you keep your PC clean and safe at all times. To delete Diamond Computer Encryption Ransomware without encountering any major problems make sure to follow the detailed instructions that we present below.
Diamond Computer Encryption Ransomware starts doing its dirty work right upon intrusion. Once you launch its executable file, it quickly identifies the contents of your hard drive. After that it immediately initiates the encryption procedure, which is utterly silent; thus, it is not surprising that most users realize that their PC is infected with this ransomware only when it is too late. Using a powerful cipher this malicious piece of software mainly locks video, picture, and document files. Manual decryption is impossible due to the strength of the algorithm. One fortunate thing is that this malware does not encrypt any data that is crucial for your operating system's overall functionality. As soon as you no longer have access to your files, you will see a ransom note, which is usually called _READ_IT_FOR_RECOVER_FILES.html. The note contains basic information about what this malicious application has done. It also informs that nobody can unlock your data without a specific decryption key and if you wish to regain access to the encrypted files you must make a transaction of 0.1 Bitcoin. It might seem like a viable way to get yourself out of the trouble that you are in; unfortunately, there are no guarantees that your data will be decrypted even if you make the requested payment. That is so because cyber criminals are not legally bound to do so. We recommend using shadow copies or a backup image to regain access to your files. It should be self-evident such functionality of Diamond Computer Encryption Ransomware cannot be tolerated. Make sure to execute its complete removal at the very same time that it is found active on your personal computer.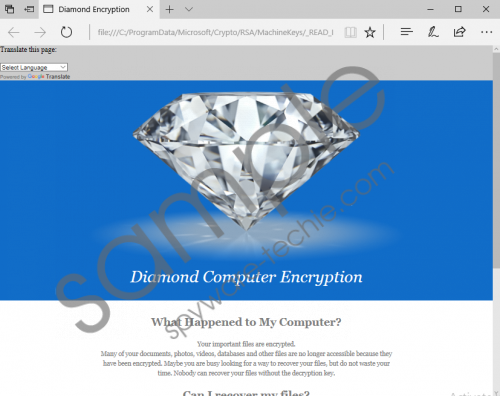 Diamond Computer Encryption Ransomware screenshot
Scroll down for full removal instructions
If you consider yourself to be a security-conscious user, there are steps that you need to take to improve your virtual security. First of all, you need to have a reliable antimalware tool active on your PC. Make sure to obtain and install such a tool of you do not have one already as it is paramount for numerous reasons. It can warn you about virtual threats in advance as well as it can delete any malicious program automatically. Alongside such a tool you must practice safe browsing habits to improve your system's security further. Under no circumstances download software from unauthorized third-party download websites because they are infamous for hosting setup files filled with devious programs. Also, you should always read and learn as much as possible about an unfamiliar program that you want to have on your PC before downloading and installing it. That is important because a lot of times unsuspecting Internet users are tricked into acquiring a program without understanding what it does by manipulative marketing techniques. Last, but not least, be extra careful about any email attachment that comes your way from an unidentifiable source because cyber crooks tend to distribute malicious software via spam email campaigns. Such cautious behavior on the web along with a professional antimalware tool will make your operating system virtually unbreakable.
Malware experts at Spyware-Techie.com have crafted an easy-to-follow yet effective removal guide that will allow you to delete Diamond Computer Encryption Ransomware in no time at all. Even though the instructions are designed to terminate this malware entirely, some users might miss a step accidentally. Unfortunately, such unintentional mistake could have devious outcomes. There is a chance that leftovers could initiate a silent restoration of Diamond Computer Encryption Ransomware. To avoid this, we recommend conducting an in-depth analysis of your entire operating system for anything linked to the ransomware in question as soon as you are done with the instructions below. Doing so will ensure you that the removal procedure has been successful.
How to delete Diamond Computer Encryption Ransomware from your computer
Open your File Explorer.
Navigate to C:\Users\(your username)\Downloads.
Right-click a malicious .exe file and select the Delete option. The name of this file is random.
Right-click your Recycle Bin and select Empty Recycle Bin.
In non-techie terms:
If you happen to be a user that finds manual removal too complicated, do not worry. Our researchers have crafted an alternative removal guide. By following the instructions below and you will be able to delete Diamond Computer Encryption Ransomware in a fully automated manner