Do you know what DestinyHoroscopes is?
DestinyHoroscope is an application that is meant to provide you with exclusive content that regular users supposedly cannot find at destinyhoroscopes.com. In reality, this add-on attaches an easy-access link to your browsers (Internet Explorer, Firefox, or Chrome) routing to this website. The app is available for downloading at destinyhoroscopes.com/premium, and Chrome users can acquire it from the Chrome store at chrome.google.com/webstore/detail/destinyhoroscopes/nmgkfcblepnaopcecgobfepjidadaofj. According to our research team, the installer of this program could also be bundled along with third-party programs. Regardless of how you have downloaded this application, we suggest deleting it from your operating system and browsers as soon as possible. If you do not know why you should remove DestinyHoroscope, you should continue reading.
According to the "About" section on the official website, DestinyHoroscope provides users with free content only if they agree to receive advertising. It is stated that in-text, pop-up, banner, and transitional advertisements could be shown to promote third-party content. The good news is that these ads should have a tag identifying the app they belong to, which should make it easier for you to spot them. We do not recommend interacting with these advertisements because we do not know the parties standing behind them. The Privacy Policy does not list the companies whose products could be promoted by the suspicious add-on, and that makes DestinyHoroscope unpredictable. According to the statement, the program itself does not collect personally-identifiable information, but it is unknown if third-party cookies are just as unobtrusive. What is most annoying is that suspicious advertisements and surveys could follow horoscope readings and other information in newsletters that you have the option to subscribe to. Did you expect to face suspicious ads and third-party content when downloading this seemingly helpful app? Most users are surprised by this, and that is why they delete the app.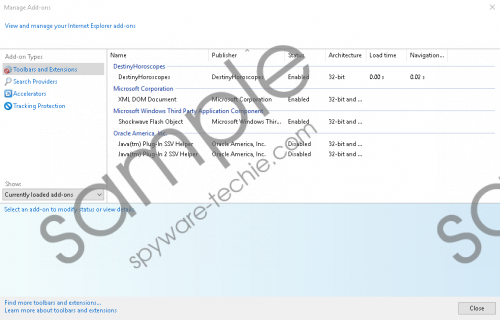 DestinyHoroscopes screenshot
Scroll down for full removal instructions
If you have downloaded DestinyHoroscope bundled with third-party software, it is crucial that you review it as well. Hopefully, you will find no serious threats, but keep in mind that malicious installers could use this seemingly attractive ad-supported program (adware) to conceal more malicious threats. You could spend hours looking through folders and registry entries, or you can install a free malware scanner to examine your Windows operating system in a few minutes. A reliable malware scanner can detect malicious infections, adware, potentially unwanted programs, and even malicious tracking cookies. You should not be afraid to install this tool – as long as it is legitimate – because you will not be obligated to use it for the elimination of the detected infections. Obviously, if serious infections are found, or if there are a lot of different threats, it is a good idea to invest in an automated malware remover, especially if you are inexperienced, and you do not know how to clean your operating system manually.
Users who have downloaded DestinyHoroscope onto Internet Explorer will find the files of this app in a folder under %LOCALAPPDATA%. These files require removal, but uninstalling the app is just as effective, as well as easier. Chrome and Firefox users can delete DestinyHoroscope by eliminating the extensions. Whichever browser was infected, you will find the steps that you need to take in the instructions below. Afterward, restart your computer and scan it one more time to check for leftovers. If you decide to eliminate all additional threats manually as well, make sure you do your research. Our website has an extensive database of malware removal guides, and all you need to do is enter the name of the threat you are interested in into the search box to find the appropriate one. If you are struggling to find information or you need our help, do not hesitate to start a discussion below.
Remove DestinyHoroscope
Google Chrome
Open the browser and tap Alt+F keys to launch a menu.
Move the cursor over More tools for more options and click Extensions.
Find the unwanted add-on and click the trash bin next to it.
Select Remove and then restart the browser.
Mozilla Firefox
Launch the browser and tap Alt+T to launch the Tools menu.
Select Add-ons and then move to the Extensions menu.
Click the Remove button next to the unwanted add-on and then restart the browser.
Windows XP (Internet Explorer)
Click the Start button on the Taskbar and select Control Panel.
Double-click Add or Remove Programs to open a menu.
Find the unwanted application, click it, and select Remove.
Windows Vista/Windows 7 (Internet Explorer)
Click the Windows logo on the Taskbar and open Control Panel.
Move to the Uninstall a program menu.
Right-click the undesirable program and click the Uninstall button.
Windows 8/Windows 10 (Internet Explorer)
Tap Win+R keys on the keyboard to launch RUN and enter Control Panel.
Navigate to Uninstall a program.
Locate the unwanted app, right-click it, and choose Uninstall.
In non-techie terms:
Our research has revealed that it is best to delete DestinyHoroscope. This advertising-supported program is advertised as a beneficial add-on that provides users with exclusive content, but, in reality, it only shows ads and collects information about you to aid advertisers. Even if this adware is not malicious to you personally, it is not beneficial in any way, and so there is no reason to postpone its removal. It is very easy to eliminate this adware manually by uninstalling it (for Internet Explorer users) or erasing the extension (for Chrome and Firefox users). Nonetheless, we advise installing anti-malware software because it can erase all existing threats simultaneously and because it can enable full-time protection as well, which you need if you want to prevent malware from slithering in.