Do you know what DesktopClock is?
DesktopClock looks like a useful gadget, but, in reality, it is just a useless program that was created by Howard Software Limited to help them generate profit. If you install the free version of this program, you will be bombarded with online advertisements, and, if you click on them, the creator of this adware is likely to earn some money. If you purchase the paid version of DesktopClock (5.99 USD), the ads will not show up, but you will have given up your money. Unfortunately, the advertisers working with this adware are unknown, and the program itself is not worth the fee asked. This is why we believe that you should remove DesktopClock from your operating system. Read this report to learn how to delete this suspicious program in no time.
Both the free and the paid versions of DesktopClock are available at desktopclock.net. This website introduces computer users to a Privacy Statement that is identical to the ones associated with WinClock, ExpressMediaConverter, and other suspicious programs represented by Howard Software Limited. Although all of these programs have separate download sites, our researchers warn that they could be introduced by unreliable software distributors. Needless to say, we do not advise installing any programs from unreliable parties, but, if you do, make sure you do not let in unreliable programs. If malware slithers in, you will have to remove it along with DesktopClock. You can learn if you need to delete malicious programs by installing and running a reliable malware scanner.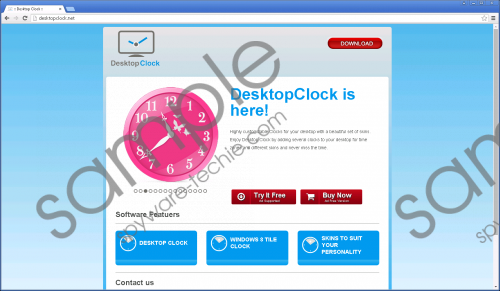 DesktopClock screenshot
Scroll down for full removal instructions
Although DesktopClock is meant to provide a clock for your desktop, our researchers have found that it functions as an advertisement-supported program as well. According to the Privacy Statement we have mentioned already, this program shows pop-ups, pop-unders, and in-text advertisements "in the form of shopping results." Of course, if you download the ad-supported version of DesktopClock, it is unlikely that these ads will surprise you. Nonetheless, the advertisers standing behind them are unknown, which means that there is a risk of encountering misleading ads, and this is why you might want to delete this adware from your PC. On top of that, this adware does not always work the way it is supposed to, which is a great motive to remove DesktopClock from your PC.
You can uninstall DesktopClock from your operating system using the manual removal guide below. It is possible that this guide will help you delete programs that could have been installed along with this adware as well. Unfortunately, no one can guarantee this, which is why we believe it is best to install an authentic malware remover. This tool can delete DesktopClock along with all other unreliable programs without wasting any of your time. Moreover, it can provide you with reliable Windows protection.
Remove DesktopClock from Windows
Remove from Windows XP
Open the Start menu by clicking the Start button on the Taskbar.
Select Control Panel and move to Add or Remove Programs.
Choose the undesirable application and click the Remove button.
Remove from Windows Vista or Windows 7
Open the Start menu by clicking the Windows button on the Taskbar.
Select Control Panel and click Uninstall a program (under Programs).
Right-click the program you wish to delete and choose Uninstall.
Remove from Windows 8 or Windows 10
Open the RUN dialog box by tapping the Win+R keys at the same time.
Select Control Panel and navigate to Uninstall a program.
Find DesktopClock, right-click it, and select Uninstall to delete it.
In non-techie terms:
Our research team recommends removing DesktopClock from your operating system because it does not provide beneficial services, and the ads it might inject are unpredictable. If you know how to uninstall unwanted software, the removal of DesktopClock should not pose any difficulties for you. If this adware was installed along with other unreliable programs, we advise using an automated malware remover/security tool to get rid of them and to enable reliable Windows protection at the same time.