Do you know what Desktop Ransomware is?
Desktop Ransomware is a malicious application that shows a warning message with a red skull and words "Welcome in Desktop Ransomware." The malware encrypts user's files and then asks for a unique PIN code to decrypt them. We suspect the hackers planned to ask for ransoms in exchange for the PIN codes, but our researchers say the link to information on how to obtain these codes does not work. It suggests either something went wrong or the malware could still be in the development stage as it is often such malicious applications ask for either ridiculous amounts of money or give no instructions on how to transfer it. If you keep reading our report, we will tell you more details about Desktop Ransomware. Also, if you need help with its deletion, keep in mind you can use the removal guide available at the end of the article.
Currently, it is unknown where does Desktop Ransomware come from. It is possible it could be traveling with malicious email attachments, fake updates, or other data alike. Thus, to keep away from it or malicious applications alike we would recommend staying away from suspicious files you could receive with Spam emails or from unreliable websites, such as torrent or other file-sharing web pages. Besides, we always advise our readers to strengthen the computer as much as possible. For example, it would be wise to keep all of your software up to date as outdated tools can have vulnerabilities that hackers may exploit to infect the computer. A reputable antimalware tool is another advisable extra precaution. It can guard the system against various threats and alert you about suspicious content.
Desktop Ransomware does not need any files to drop to start the encryption process so it might begin as soon as the device gets infected. The malicious application may target private user's data, such as photos, documents, videos, and so on. It is easy to recognize affected files because they ought to be marked with a specific prefix (Lock.) that should be added at the beginning of each encrypted file, for example, Lock.picture.jpg. Later, the malware should change the user's Desktop picture and open a pop-up window with a warning message. As explained earlier, it is supposed to say you have to obtain a PIN code for decryption from the Desktop Ransomware's developers. The problem is the button for getting the PIN or information on how to obtain it does not work. Of course, we would not recommend putting up with any demands either as there is always a possibility the user might get tricked.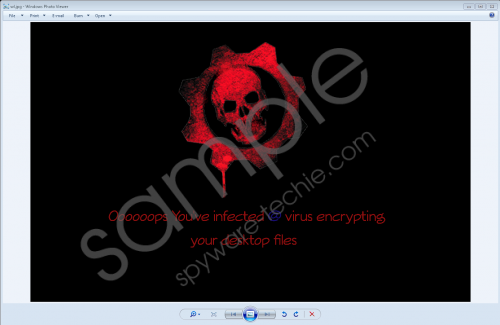 Desktop Ransomware screenshot
Scroll down for full removal instructions
Fortunately, in this case, our researchers found out the FIN code for decrypting files should be "00114455220033669988554477++//" without exclamation marks, so if you do not have backup copies, you could try it out. Afterward, we would advise deleting Desktop Ransomware as there is no point in keeping a malicious application on the system. You could get rid of it with the removal guide available below or a reputable antimalware tool of your choice.
Erase Desktop Ransomware
Click Ctrl+Alt+Delete simultaneously.
Pick Task Manager.
Take a look at the Processes tab.
Locate a process associated with this malicious program.
Select this process and tap the End Task button.
Click Windows Key+E.
Navigate to the suggested paths:
%TEMP%
%USERPROFILE%Desktop
%USERPROFILE%Downloads
Find a file launched when the system got infected, right-click the malicious file and select Delete.
Leave File Explorer.
Empty Recycle bin.
Restart the computer.
In non-techie terms:
Desktop Ransomware is a threat that can encipher your files and make them useless as a result. Fortunately, as we said in the main text, our researchers were able to obtain the PIN code (00114455220033669988554477++//) to decrypt affected files in the malware's code, so it is possible you can restore your data without having to risk anything. Therefore, if you encounter this malicious application what we recommend is trying the suggested code to decrypt your files and then eliminating the threat with no hesitation. Users who want to delete the infection on their own can use the removal guide available a bit above the text as it will explain the manual deletion process step by step. The other way to get rid of the threat is to install a reputable antimalware tool and scan your computer with it. Provided you have more questions you can also leave your messages ta the end of this page, and we will try to get back at you as soon as possible.