Do you know what DeriaLock Ransomware is?
DeriaLock Ransomware is a dangerous threat that you need to keep your operating system guarded against. If it successfully slithers into your PC, your files will be encrypted – and you might be unable to reverse the damage – and your Desktop will be paralyzed. If you have time, upgrade your virtual security to ensure that this monstrous infection does not slither into your operating system. If it has already attacked, continue reading to learn what you should do next. One thing we can say right away is that you should not rush to fulfill the demands expressed via a ransom note. Although the ransom requested might seem quite small, any involvement with cyber criminals could be detrimental. Also, do not forget that you will need to remove DeriaLock Ransomware regardless of the outcome!
The malicious DeriaLock Ransomware is not just another ransomware that is capable of encrypting your personal files. It is also a screen locker that is capable of blocking the Task Manager, closing all active programs, and, consequently, making the entire attack worse. When the ransom note window called "YOU ARE FUCKED M8" shows up on the screen, you cannot do anything because there is no option to close it. And because the Task Manager is blocked, you cannot launch it on top to terminate the malicious process. Obviously, this makes the removal process much more complicated, but that does not mean that it impossible. The bad news is that you will not reverse the damage that has already been made by deleting DeriaLock Ransomware. At this point, we still do not know which encryption algorithm the infection uses, but it is likely to be highly complex and impossible to crack.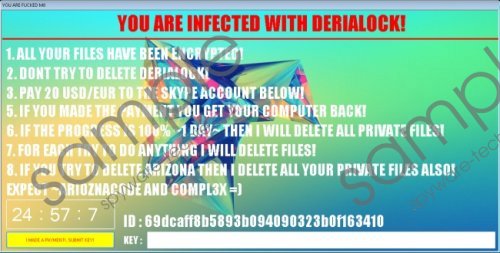 DeriaLock Ransomware screenshot
Scroll down for full removal instructions
According to our research, the dangerous DeriaLock Ransomware primarily attacks your personal files found in the %USERPROFILE% folder, as well as all subfolders. The infection does not avoid .exe and .dll files either, which might make some programs dysfunctional. Note that all encrypted files get the ".daria" extension attached to them. The good news is that you should have no trouble replacing the infected software files by downloading healthy copies from the Internet. Unfortunately, the same cannot be said about your personal files. It would be great if you had backups of your files. If your personal photos, documents, and other sensitive files are backed up, there is one less thing to worry about. If your files are not backed up, you need a decryption key, and only the creator of DeriaLock Ransomware has it. The ransom note orders you to pay a ransom of 20USD/EUR to the Skype account that should be added as well; however, in our case, the Skype account name was unclear. In any way, you should think if you want to get involved with cyber criminals because they might take your money but "forget" to give you the decryptor.
Your files might be lost for good if DeriaLock Ransomware has slithered in. Hopefully, they are backed up or you find a way to decrypt them without having to communicate with cyber criminals. Whatever happens, you must remove the ransomware immediately, and you also have to take care of your system's protection. The infection is likely to have slithered into your PC with a spam email, and you might have downloaded the .exe file by opening an attachment. This would not happen if your operating system was reliably protected by legitimate security software, and so you have to install it as soon as possible. The guide below shows how to delete DeriaLock Ransomware from your PC manually by rebooting in Safe Mode, but you can also reboot in Safe Mode with Networking and install a legitimate anti-malware tool to have your operating system cleaned automatically.
Remove DeriaLock Ransomware
Reboot Windows XP/Windows 7/Windows Vista
Restart the PC, wait for BIOS screen to load, and then start tapping F8.
Using arrow keys on the keyboard select Safe Mode and then tap Enter.
Reboot Windows 8/ Windows 8.1
Open the Charm bar in Metro UI, click the Settings tab, and then click Power.
Hold down the Shift key on the keyboard and click Restart at the same time.
Move to the Troubleshoot menu, go to Advanced options, and click Startup Settings.
Click the Restart button and then select F4 to reboot in Safe Mode.
Reboot Windows 10
Click the Windows logo on the Taskbar and click Power.
Hold down the Shift key on the keyboard and click Restart at the same time.
Open the Troubleshoot menu, click Advanced options, and go to Startup Settings.
Click the Restart button and then select F4 to reboot in Safe Mode.
Delete ransomware components
Right-click and Delete the malicious .exe file you downloaded via a spam email.
Launch Explorer by tapping Win+E keys.
Enter %APPDATA%\Microsoft\Windows\Start Menu\Programs\Startup into the bar at the top.
Right-click and Delete the malicious file (might be called LOGON.exe).
Install a legitimate malware scanner to check for potential leftovers.
In non-techie terms:
The monstrous DeriaLock Ransomware sets out to encrypt your files and paralyze your operating system. The goal behind this infection is to make you pay a ransom of 20USD/EUR, which might seem like a low price for your personal files, but keep in mind that cyber crooks might have hidden agenda. It is completely unclear how the payment is meant to be paid (maybe the infection is still being tested, and that part has not been perfected yet), and no one can guarantee that your money would help you get the decryption key you so desperately need. If your files are backed up, go ahead and remove DeriaLock Ransomware without further delay. Do not waste time even if your files are at risk. Also, do not forget that your operating system is vulnerable, and you can prevent further attacks by employing reliable security software.