Do you know what Deluxsearch is?
Deluxsearch is an application that might change the settings of a Google Chrome browser immediately after it enters the computer. Specifically speaking, you will see a new page (home.deluxsearch.com) in the place of a homepage, your default search engine, and even the New Tab page. Even though Deluxsearch changes the browsers' settings, it is not called a browser hijacker because these settings can be easily undone. Also, users are allowed to choose which search engine, e.g. Google, Yahoo! or Bing to use as a default search provider. Even though Deluxsearch does not look bad at first glance, and it does not fall into the category of browser hijackers, it still cannot be called a very trustworthy application. According to specialists working in our research team, this application should be called an advertising-supported application because it is evident that its main goal is to show all kinds of commercial advertisements for users. In this sense, it is similar to adware belonging to the SuperWeb family. They share another similarity too – both SuperWeb adware and Deluxsearch cannot be downloaded from their official web pages even though they have them. This suggests that illegal ways of distribution are used to spread them.
Deluxsearch should not show different types of commercial advertisements, e.g. pop-ups, banners, in-text ads, etc. like other adware programs do. Instead, users should see them only when using the search box on the page set by Deluxsearch. The Terms of Use of this program also informs users about that. These advertisements are called advertising-supported search results there. This application has been programmed to bring the third-party content to users, but it is evident that it does that not to keep them informed about best deals or beneficial services. Instead, it is providing users with those ads because the developer of this software, most probably, gets money for helping to increase the traffic rate of third-party websites. Users are the ones who boost the traffic of these websites by visiting web pages against their will, but all they could get is a bunch of undesirable programs that might sneak onto the computer after landing on some kind of bad website. It is impossible to say whether a decent link is shown or it is a promotional link, so our researchers do not think that you could protect your computer from harm by recognizing these bad links and thus ignoring them. Also, there will always be a risk to click on ads accidentally and end up on a questionable website. Therefore, our experts highly recommend eliminating Deluxsearch fully from the computer. You could no longer click on untrustworthy links, and, secondly, the website set by this application will disappear together with it if you get rid of it.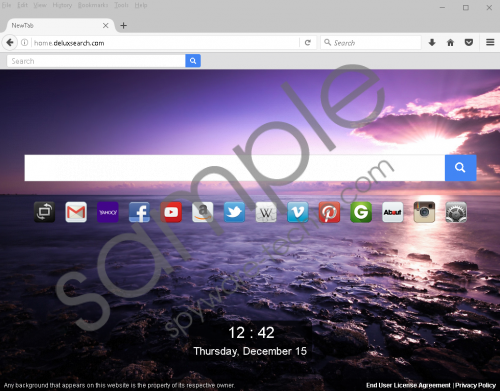 Deluxsearch screenshot
Scroll down for full removal instructions
As has already been mentioned, it is impossible to download Deluxsearch from its official website deluxsearch.com, which indicates that this application is spread in a different way. For example, it could have entered the computer in a software bundle, it could have been downloaded and installed by undesirable software that you have on your PC and do not know anything about, and, finally, it could have been installed without your consent after clicking on an untrustworthy advertisement. In most cases, these malicious advertisements are waiting for users on bad web pages. Deluxsearch could not have entered your PC if you had a security application (a reputable one!) installed on the system and enabled.
Since there is one button Add to Chrome on the official website Deluxsearch, it should be affecting the Google Chrome browser only. If this has already happened to you, go to remove the untrustworthy extension of this adware program to eliminate it fully from the computer and avoid security-related problems. If you do not even know where to find these extensions, access the Add-ons Manager by following our step-by-step instructions.
Delete Deluxsearch manually
Google Chrome
Open your browser.
Press Alt+F to open the menu and then click More tools.
Open Extensions.
Find the undesirable extension on the list and select it.
Click the button having the recycle bin icon.
Click Reset.
In non-techie terms:
It might seem at first sight that adware programs are just annoying applications, but, in reality, they might also quickly cause harm to the computer. They do not do that directly, but they might take users to websites promoting malicious software. Also, they often do not respect the users' privacy because they need to find out all the possible information about users to be able to present them with advertisements that would be interesting to people. No, it is not done as a gesture of good will. Authors of adware programs need users' clicks on ads badly to get extra money.