Do you know what Disasteroids is?
Would you trust a program that provided potentially unreliable third-party ads? Disasteroids is linked to such activity; however, its users rarely know about this. Computer users install the application because they believe that it works as a virtual game. Even though the program allows you to earn points for the successful shots you make virtually destroying a specific web page, in reality, the application has other purposes as well. If you do not delete Disasteroids, this program will enable third-party advertisements. Even though some computer users have no complaints about this, others find the flooding ads intrusive. Furthermore, not all third parties promote authentic and reliable offers.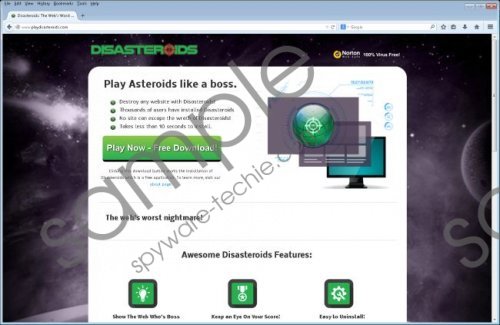 Disasteroids screenshot
Scroll down for full removal instructions
Disasteroids removal is important to those whose operating systems are not safeguarded by appropriate tools. If the installed software is out of date, or it does not exist at all, it is possible that you will face certain security risks. For example, the links hidden behind alluring offers, deals and recommendations could lead to sites linked to virtual scams. Even though in the Terms and Conditions of Use document found at playdisasteroids.com/terms.html it is stated that the application delivers the most relevant ads, they may be linked to risk you should avoid. You can terminate DisasteroidsService.exe*32 in the Task Manager to disable these ads; however, this will disable other services related to the program as well. Due to this, you should remove Disasteroids altogether.
To remove Disasteroids, or delete the clone application Websteroids (websteroidsapp.com), you can employ the manual removal instructions. Of course, malware researchers suggest you choose automatic malware removal software because you need to ensure reliable Windows protection as well. If you install this software, you will kill two birds with one stone – remove undesirable software and strengthen the security of the operating system. Make sure you activate authentic system's protection even if manual Disasteroids removal is something you have chosen.
Delete Disasteroids from Windows
Delete from Windows XP:
Navigate to the Task Bar and click the Start button on the left.
In Start menu select Control Panel and double-click Add or Remove Programs.
Locate the undesirable application, click it once and choose Remove.
Delete from Windows Vista/Windows 7:
Navigate to the left of the Task Bar and click the Windows button.
In the menu select Control Panel and then choose Uninstall a program.
Identify the application you want to remove, right-click it and select Uninstall.
Delete from Windows 8:
Access the Metro UI menu, right-click on the background and choose All apps.
In the menu select Control Panel and then click Uninstall a program.
Right-click the application you wish to remove and select Uninstall.
In non-techie terms:
Most mistake Disasteroids for a fun application, when in reality it is just another ad-supported program which requires removal. Even though the program itself is not malicious, and you can use it for the promised services, you still should delete it to disable third-party advertising. Whether you know how to delete Disasteroids manually or not, we still recommend automatic malware removal software. It will ensure that no other threats remain active or manage to attack in the future.