Do you know what Bellaphant is?
Bellaphant is a free browser add-on that you may encounter when installing some free program downloaded from a freeware website. Bellaphant displays commercial offers to enhance your online experience; however, instead of helping you find the best deals, this ad-supported program only hampers your browsing sessions.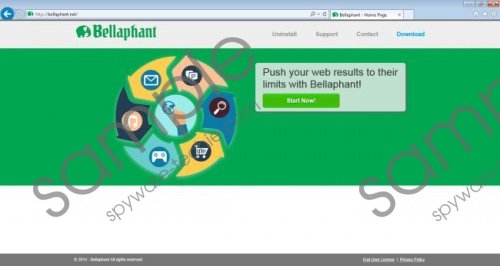 Bellaphant screenshot
Scroll down for full removal instructions
The seemingly useful and reliable program is promoted on bellaphant.net and is owned by SuperWeb LLC, which owns multiple identical programs, including Fortunitas, Glomatron, Web Flipper, and many others. The products of SuperWeb are categorized as adware, and, if you want to stop Bellaphant from generated advertisements that do not match your interests, remove this program from the computer as soon as you can.
Usually, SuperWeb programs are compatible with Internet Explorer, Google Chrome, and Mozilla Firefox. However, it has been found that Bellaphant does not work on the latest versions of Google Chrome.
Bellaphant accompanies you on almost every website you visit and displays different advertisements, including web banners, pop-up advertisements, pop-up, interstitial advertisements, in-line ads, and the like. Bellaphant ads may have nothing to do with the content of the website you are browsing because Bellaphant provides you with randomly selected advertisements. It is also important to note that SuperWeb is not associated with third-parties and does not control their privacy policies. By installing Bellaphant, you accept responsibility for your interaction with the program and the advertisements delivered to you.
Bellaphant may display advertisements promoting online games, quizzes, software programs, online scanners, updates for your programs, and many other products and services. Among these Bellaphant ads, you may encounter deceptive advertisements, which is why we recommend that you ignore Bellaphant pop-ups. We strongly recommend that you ignore advertisements promoting updates for Internet browsers of Flash players because you may be provided with some unreliable programs. Moreover, you should be very careful with advertisements inviting you to take part in a quiz or install an unknown computer security programs.
It is also important to mention that you should not delay the removal of Bellaphant because this adware program automatically records your online preferences. The program records your clicks, impressions, search terms, browsing history, and the longer you keep Bellaphant on the PC, the more information about your online behavior is collected. Your preferences are recorded to determine your browsing patterns and provide you with more relevant offers. If you have no intention of using this program and its coupons, remove it from the computer right now.
Our below-given instructions should help you remove Bellaphant from the PC, but you should also provide the computer with protection against malware and spyware. In order to help you save time and energy, we recommend using SpyHunter. This real-time security program readily detects and removes Bellaphant from the computer. Moreover, it effectively protects your machine against Trojan horses, browser hijackers, ransomware infections, and many other Internet-based threats.
How to remove Bellaphant
Windows Vista and Windows 7
Click Start.
Select Control Panel.
Click Uninstall a program.
Remove Bellaphant.
Windows 8
Move the mouse to the lower-left corner of the screen.
Right-click.
Select Control Panel.
Click Add or Remove Programs.
Uninstall the unwanted program.
Windows XP
Open the Start menu.
Select the Control Panel option.
Click Add or Remove Programs.
Remove Bellaphant.
In non-techie terms:
If you want to have Bellaphant removed for you, use the below-given instructions, which will help you install our recommended security tool. If you have any questions concerning the removal of Bellaphant, feel free to leave a comment below.