Do you know what Defender PRO 2015 is?
Defender PRO 2015 is a fake antivirus program that has been developed by the same cyber criminals as Antivirus Defender 2015 and Malware Defender 2015. These rogue antispyware applications are supposed to behave like real computer security products, but their objective is to scare unsuspecting users into believing that their computers are severely infected with malware, and they need to remove all the infections by investing in the full version of these fake programs. In reality, the program you need to remove from your computer is obviously Defender PRO 2015 itself.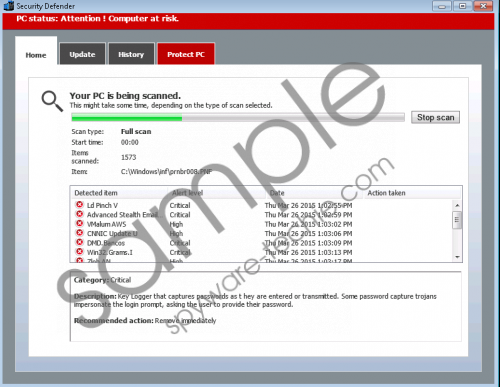 Defender PRO 2015 screenshot
Scroll down for full removal instructions
Defender PRO 2015 has a sophisticated design, so if it is your first time getting infected with this type of malware, you may not realize that Defender PRO 2015 is an actual infection. This malicious program looks very much like a built-in security application else known as Windows Defender. The rogue even copies the official program's interface to make it look like it is an extended version of the security tool. Unfortunately, quite a lot of users fall for this trick because Defender PRO 2015 is rather good at scaring people into believing their computers are seriously infected. This is how users end up paying for the full version of this program, essentially revealing their credit card information to the cyber criminals.
This infection most probably entered your computer through spam email attachment or Trojan downloaders. It might also be possible that you accidentally downloaded Defender PRO 2015 when you were offered a fake Java or Flash plug-in updated on a third-party website. Once the installation is complete, Defender PRO 2015 pops up into the action and runs a fake system scan, detecting multiple infections (that obviously ARE NOT there). Even if you ignore the false scan results and try to remove Defender PRO 2015, the rogue will not let you off the hook that easily. This malicious infection tries to protect itself from being removed, so it blocks all major programs, and whenever you try to launch any of the blocked applications, Defender PRO 2015 displays the following message:
Review harmful or potentially unwanted software

Your computer might be infected with: Autorun.AOL.
Windows has detected potential threat that might compromise your privacy or damage your computer. This Trojan is dangerous and executes commands from an attacker.

Name: [browser name]

Your access to this program may be suspended until you take an action.
Needless to say, purchasing the full version of Defender PRO 2015 would not help you solve anything. You would only allow cyber criminals to get a hold of your financial information, and then you would need to change your credit card.
Follow the instructions below this description (instructions for Windows 8 and Windows 8.1 are provided separately) to access Safe Mode with Networking and remove Defender PRO 2015 automatically. Acquiring a legitimate antimalware application will not only help you delete this rogue for good, but your system will also be safeguarded against similar intruders.
Remove Defender PRO 2015 from Windows 8 & Windows 8.1
Press and hold Windows key+C.
Select Settings on the Charm bar and click Change PC Settings.
For Windows 8, select General and under Advanced startup press Restart Now.
For Windows 8.1, go to the Update & Recovery tab and select Recovery. Click Restart Now.
Go to Troubleshoot and click Advanced options.
Click Startup settings and select Reset.
Press F5 to choose Safe Mode with Networking.
Access http://www.spyware-techie.com/download-sph and download SpyHunter.
Launch a full system scan.
In non-techie terms:
Defender PRO 2015 is a dangerous computer infection that pretends it is a legitimate antispyware application. If you do not remove Defender PRO 2015 from your system immediately, you will have to face severe malware infection consequences. The removal instructions for other versions of the Windows operating system are provided below.