Do you know what DecryptorMax Ransomware is?
DecryptorMax Ransomware is a type of Trojan that is set to encrypt your personal files and blatantly demand that you pay a ransom fee to get the decryption key. Removing this infection should be your top priority, however, because there is no guarantee that you will receive the necessary decryption key after you pay for it. DecryptorMax Ransomware is not just any program that you can uninstall via Control Panel. Even though it is possible to remove it manually, we do not recommend attempting it to novice users. Therefore, we suggest using an anti-malware tool. This article is a short decryption of this Trojan. In it, we will briefly discuss how this infection is distributed and how it works so without further ado, let us begin.
Ransomware is the most commonly found type of Trojan. There are many programs similar to DecryptorMax Ransomware, such as FBI Header Ransomware, ORX-Locker Ransomware, CryptPKO Ransomware and so on. Obviously, the entities that developed the aforementioned programs differ, but the underlying concept is the same across the board. Unless your computer is protected by a constantly updated anti-malware program, infections, such as DecryptorMax Ransomware can easily infect your computer. As far as we know, this infection may be distributed via email spam. In such cases, a remote server sends an email containing a Trojan downloader that might be disguised as an attachment.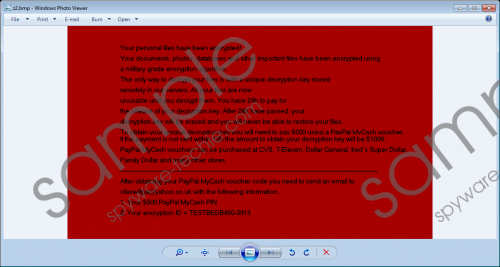 DecryptorMax Ransomware screenshot
Scroll down for full removal instructions
If you open the email attachment the Trojan downloader will go to work and download DecryptorMax Ransomware. Once this ransomware is in place it will encrypt various files, such as DOCX, PDF, TXT, and so on. So your potentially important files may be irreversibly damaged by this infection. After the encryption, this ransomware will leave a BMP image that contains important information. That file says that you have to purchase the decryption key stored remotely on some kind of servers. You have 24 hours to buy the decryption key, because otherwise, you will never be able to decrypt the files. The decryption key costs $500 USD which you have to pay using PayPal. If you do not pay 12 hours after the encryption the price goes up to $1000 USD. This is a lot of money, so you have to consider whether your files are worth the demanded amount. In any case, there are no guarantees that the cyber criminals will deliver on their promise and send you the decryption key.
Of course, we do not recommend purchasing the decryption key, because it will only fund and encourage the cyber criminals to continue their illicit activities. We suggest that you try to find a third-party decryption tool that may repair your files. However, before you do that, you must first remove DecryptorMax Ransomware from your computer. As mentioned earlier, it is possible to delete this infection manually, but it is quite difficult even for the more tech-savvy users. Therefore, we suggest getting our recommended anti-malware tool. Our tests have shown that it can eliminate this infection without any problems.
DecryptorMax Ransomware removal guide
Launch the browser.
Enter www.spyware-techie.com/download-sph in the address bar.
Download and run the installer.
Perform a full system scan and click Fix threats.
Done.
In non-techie terms:
DecryptorMax Ransomware is a type of Trojan that is set to encrypt your personal files and demand that you pay a lot of money for the decryption key. You files may very well be lost forever, but you still must remove this infection. Buying the decryption key is a gamble, because there is no way of knowing if the cyber criminals will keep their word.