Do you know what Dealz is?
Dealz is not the beneficial shopping assistant it claims to be. On the contrary, it is an unreliable ad-supported program that was created to expose you to potentially unreliable or useless advertisements. The developer of this adware is Dealz Unlimited, and it is very likely that it will make money for every ad that a user clicks on. This company is likely to have partners who might use Dealz to introduce unreliable deals. For example, you could be convinced you are being offered the best deal, when, in reality, you might be able to save more money by researching the products or services you are interested in yourself. Even though this might seem to be a weak reason to delete Dealz, we strongly recommend that you not postpone the removal of this adware.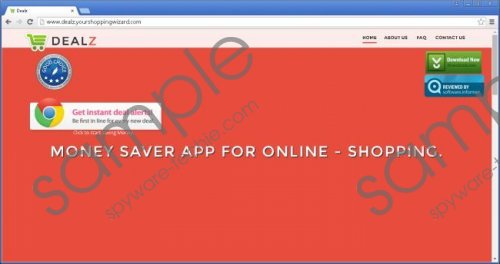 Dealz screenshot
Scroll down for full removal instructions
Depending on the web browser you use, Dealz could be installed using different names, including EverSave and dealz_europe, which might cause trouble when removing this adware. We have found that Google Chrome, Internet Explorer, and Mozilla Firefox are the browsers that this adware is compatible with. Of course, it is unlikely that you will be offered the opportunity to choose which browser you want to install Dealz on. This ad-supported program comes bundled with third-party programs, and it is most likely to be installed onto the browsers automatically. This is not that surprising, considering that neither dreamz.loveslife.biz or dealz.yourshoppingwizard.com – which are the official download pages – do not provide users with installers. Unfortunately, there is a risk that Dealz will be installed with more malicious threats, and deleting them might be extremely important. Needless to say, you should not forget to remove Dealz either.
If you do not remove Dealz from your browsers immediately, advertisements will start bombarding you every time you launch a browser. These advertisements might be used to boost traffic to unpopular sites, but they could also be used to introduce users to phishing scams, unreliable installers, and other threats. Of course, if you delete Dealz, but ignore other programs installed along with it, you might face the same issues. Even though this article was dedicated to Dealz, you should always think of malware and unreliable programs as a unit. If one part of this unit remains active, you are still dealing with the same security issues. Of course, users can delete all programs separately, but we think it is most efficient to delete all of them at the same time, and authentic security software can provide you with reliable removal services.
Delete Dealz from Windows
Delete from Windows 8.1 & Windows 8
Simultaneously tap Win+R to launch the RUN utility.
Enter Control Panel to open a menu and select Uninstall a program.
Find the program you want to remove, right-click it, and choose Uninstall.
Delete from Windows 7 & Windows Vista
Open the Start menu from the Taskbar and select Control Panel.
Click Uninstall a program and find the undesirable program.
Right-click the program you want to remove and click the Uninstall button.
Delete from Windows XP
Open the Start menu and click Control Panel.
Go to Add or Remove Programs and select Change or Remove Programs.
Select the undesirable program and click the Remove button.
In non-techie terms:
Even though Dealz is presented as a useful program, the Spyware-Techie.com research team suggests removing this ad-supported program right away. If you do, you will avoid potentially unreliable ads, as well as the collection of information regarding your virtual activity. Should you choose to remove Dealz manually, do not forget that other infections might require attention as well. Not all unreliable or malicious programs are the same, which is why you should not expect the removal guide above to work on all of them. Fortunately, we can guarantee that this guide will help you delete Dealz.