Do you know what DealSquib is?
DealSquib is a questionable application developed by the same group that has crafted a well-known adware program called Baboom Audio. Thus, it is not surprising whatsoever that the questionable program has been classified as adware by malware researchers working in our internal labs. During our research, we have noticed that developers of this ad-supported program use deceiving marketing strategies to lure unsuspecting Internet users into obtaining this worthless piece of software. Within the Chrome Store, this program is promoted as a great tool to help you with your daily online shopping as it should present you with great discount deals, ads, and coupons. All of this sounds terrific, especially if you are a frequent online shopper; unfortunately, this is not the whole story behind this adware and its questionable functionality. In this article, we discuss and expose the intrusive nature of DealSquib and explain why its removal is imperative to your virtual security. Also, make sure to follow the removal guide that we provide below to terminate this adware in just a few easy steps.
At first sight, DealSquib might seem just like any other adware application that is roaming the web nowadays. It is important to note that at the moment the intrusive program affects only the Google Chrome browser. The primary indication that this ad-supported program has entered your operating system and is fully functioning is a web browser flooded with an unusual amount of third-party web content. Like quite a few other adware programs of today, the one in question relies on a browser extension to present all that unwanted web content. The extension contacts designated adware servers and presents targeted ads, coupons, and pop-ups. At first sight the ads might seem useful; unfortunately, this is not the case in reality. The fact is that all the ads, coupons, and pop-ups are worthless and will not be of any help to you. The invasive web content will only cause constant disruptions while you are surfing the web. All the undesirable ads, pop-ups, and coupons might even flood your web browser so much that surfing the web could become out of the question. It goes without saying that experiencing such constant interference is not something you want to come across on a daily basis. To avoid such interference make sure to delete the adware program in question without any hesitation; otherwise, your online experience will remain a miserable one.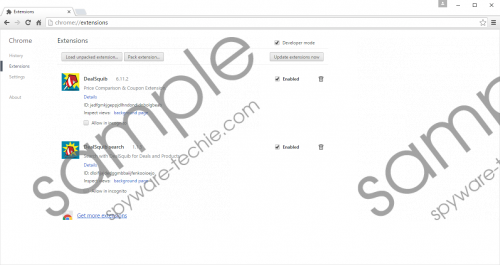 DealSquib screenshot
Scroll down for full removal instructions
In addition to this annoying activity, DealSquib exhibits some features that might resemble characteristics of a browser hijacker. You will notice that your new tab page and search engine were changed by this adware application. At first, these changes might seem irrelevant, but as times goes on you will realize that you have no choice but to use the newly appointed search engine instead of the one of your preference. This is not only annoying but as it turns out could even be dangerous at times. During the investigation our malware experts have found out that in some cases you might be presented with modified search results, meaning that some of them could turn out to be embedded with redirect links. This is a highly dangerous situation that you could find yourself in if you have this ad-supported program operating on your computer. By clicking on such a search result, you might end up on a suspicious or even malicious third-party website. You could also be redirected to a fake online shop. Such online stores are crafted by cyber criminals to steal your credit card data. It should be more than obvious that landing on any of such sites could have devastating outcomes. A complete removal is a must if you wish to maintain a fully secure and functioning operating system at all times.
The removal of DealSquib is fairly straightforward. Make sure to follow the instructions that we provide below carefully and you should not encounter any major problems. It is important to note that the adware in questions inserts quite a few files of its own it is a good idea to check the Google Chrome folder within the %APPDATA% directory to be sure that every single bit of this invasive adware has been removed from your operating system once and for all.
How to terminate DealSquib
Instructions for Windows 10 users
Right-click the Windows button.
Select Control Panel.
Click Uninstall a program.
Select the unwanted program and click Uninstall.
Instructions for Windows 8 and 8.1 users
Right-click your Task Bar.
Select Control Panel.
Click Uninstall a program.
Right-click the unwanted program.
Select Uninstall.
Instructions for Windows 7 users
Tap the Windows key on your keyboard.
Select Control Panel and click Uninstall a program.
Select the malicious application.
Click the Uninstall option.
Instructions for Windows XP users
Click Start and select Control Panel.
Select the Add or remove programs option.
Select DealSquib and click Remove.
In non-techie terms:
It is imperative to delete DealSquib fully as just a few leftover files could be the reason the adware program in question is able to restore itself. If you find manual removal and analysis too complicated make sure to follow the instructions that we provide below. By executing this alternative removal guide you will have no trouble removing this invasive application since it will be removed in an automatic way.