Do you know what DealNinja is?
If you ever happen to come across a program named DealNinja make sure not to download or install it under any circumstances. We advise you so because after a deeper investigation of this program our malware experts have decided to dub this suspicious program as an adware application. Unfortunately, all the claims about this ad-supported program are misleading to say the least. You might come across statements claiming that this piece of software will help you save a ton of money while you are shopping online by presenting you with great discount deals, coupons, and promotional codes. Do not get fooled by these statements since they are just a technique to trick naïve Interne users into obtaining this worthless, annoying, and at times potentially malicious program. We have crafted a detailed removal guide that will help you delete DealNinja in just a few easy steps, without encountering any major problems. Use it as soon as you find this adware active on your operating system.
As soon as DealNinja is able to gain access to your operating system, your web browser will be flooded with an unusual amount of unwanted third-party web content. What is unfortunate that none of the ads, pop-ups, or coupons are actually useful. All such content will only disrupt your online activities on numerous occasions. The adware program in questions uses a browser extension to contact adware servers – the primary source of the intrusive web content. At times, you web browser could become virtually unusable due to the share amount of third-party commercial ads, pop-ups, and coupons. It goes without saying that browsing the web the way you are used to will be almost impossible. Make sure to delete this ad-supported program to regain the standard functionality of your web browser; otherwise, the invasive third-party web content will continue to bother you.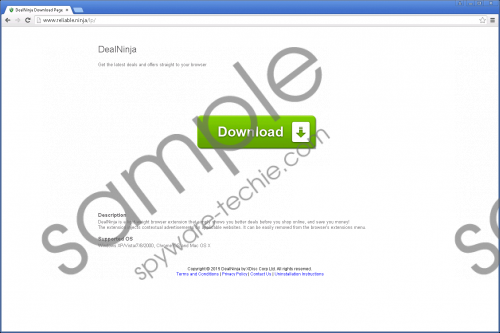 DealNinja screenshot
Scroll down for full removal instructions
Besides annoyance, DealNinja could even become a virtual threat. This is so because, during the research, it has been found out that some ads and pop-ups could turn out to be embedded with redirect links. This means that clicking on a seemingly harmless ad or pop-ups could have devastating outcomes since you could be taken to suspicious or even potentially malicious websites. You could end up on a site that promotes malicious software, as well as you, could end up on a fake online store that was crafted for one reason –only. Thus, it is rather natural that we recommend ignoring all the content that this adware application might present you with. It goes without saying that the removal of DealNinja is a must if you want to keep your operating system safe, secure, and fully functioning at all times.
If that was not enough, our team has would also like to inform you that DealNinja is not only capable of contacting adware servers. The suspicious ad-supported program can virtually connect to any server. Unfortunately, it is impossible to determine when these connections might be triggered. At times, the intrusive piece of software could contact just a dead server, and that would not have any effect on your computer. Of course, it could just as well contact to a malicious server and trigger a silent download. Therefore, we firmly advise every single user that has DealNinja active on their PC to check their operating system for other suspicious or even malicious applications. By not it should be more than obvious why the removal of this ad-supported program should be your top priory.
Do not take any chances with DealNinja as the consequences could be disastrous. Make sure to delete every single bit of this adware to stop its functionality entirely. Once you have executed the manual removal that we provide below you need to conduct an in-depth analysis of your computer to be sure that no traces related to DealNinja are active on your operating system. Make sure to check your system thoroughly since just a single mistake could be more than enough to silently restore DealNinja.
How to remove DealNinja from your browser
Google Chrome
Launch the browser and simultaneously tap Alt+F.
Select Tools.
Click Extensions.
Click the recycle bin icon placed next to the undesirable add-on.
Select Remove.
Internet Explorer
Launch the browser and simultaneously tap Alt+T.
Select Manage Add-ons.
Click Toolbars and Extensions.
Remove the undesirable plugin and click Close.
Mozilla Firefox
Launch the browser and then simultaneously tap Ctrl+Shift+A.
From the menu on the left select Extensions.
Remove the undesirable plugin.
In non techie terms:
Some users find manual removal too complicated. If you happen to be one of those users make sure to use the alternative removal guide below. These instructions will help you delete DealNinja in an automatic way, without encountering any problems.