Do you know what DealCola is?
DealCola is an application which supposedly can provide you with online deals after you install it onto Chrome, Firefox and Internet Explorer browsers. The application is meant to help you find the best deals when you shop on various web stores, including amazon.com or jcpenneys.com. Aside from allegedly beneficial deals the plugin also allows the emergence of in-line, banner and pop-up advertisements. This is the main reason why people wish to have DealCola deleted from the PC. Unfortunately, to remove the undesirable advertisements and get rid of the sponsored search results you might need to take a few extra steps after having the undesirable plugin deleted.
Do you know how DealCola can present you with pop-ups which are personally interesting? Well, in order to provide you with interesting advertisements the developers of the plugin need to figure out what sort of information you are interested in. In order to achieve this, DealCola components, like the web cookies, could be used to track your search history and record information about your virtual habits. The more online ads, offers and links you click on the more money can be earned, which is why the plugin's developers are willing to flood your desktop with these suspicious adverts. Even though the Privacy Policy linked to the add-on discloses (see an excerpt below) that personally identifiable information is not collected by the plugin, you cannot be too sure whether third parties controlling the displayed ads could not be capable of that.
We do NOT knowingly collect personal information through the Plugin. However, it is it is possible that, in very limited and rare circumstances, personal information could be collected incidentally without our knowledge in each case
If schemers managed to trick DealCola developers into displaying malicious advertisements, there is a possibility that these will be presented to you. By clicking on misleading advertisements you could install tracking cookies and fall into the trap of virtual scams. These are the risks you should avoid by all means, which is why it would be best to delete the suspicious plugin and adware related to it altogether. Please follow the manual removal instructions below to get rid of the plugin and then install a reliable scanner to inspect your personal computer. It is possible that after getting DealCola removed you will need to delete remaining adware components.
Removal Instructions
Remove from Windows XP:
Locate the Task Bar, click Start and select Control Panel.
Double-click Add or Remove Programs and select Change or Remove Programs.
Find the unwanted application, click it and select Remove.
Remove from Windows Vista and Windows 7:
Open the Start menu and click Control Panel.
Go to Uninstall a program and locate the program you wish to delete.
Right-click this program and select Uninstall.
Remove from Windows 8:
Right-click on the background of the Metro UI menu and select All apps.
Open the Control Panel and then click Uninstall a program.
Find the undesirable application, right-click it and select Uninstall.
In non-techie terms: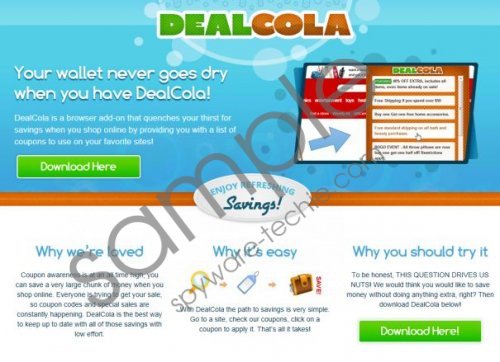 DealCola screenshot
Scroll down for full removal instructions
It has been revealed that DealCola is a browser plugin which can be categorized as adware due to its questionable relations to third party advertisers and the ability to flood your browsers with suspicious online adverts. To stop the onslaught of these advertisements you should delete the plugin and you can do it using automatic malware removal software or using the instructions displayed above.
Aliases: Deal Cola.