Do you know what Deal Maveric is?
Deal Maveric is a program which says that it can help to save money. If you visit its official website dealmaverick.net, you will notice that this adware is even advertised as "the champion of savings." Actually, we do not think that it is true because Deal Maveric is based on the Injekt engine. All the programs whose basis is the aforementioned engine are known to be useless. Deal Maveric is no exception. According to our specialists, this program has been created to generate and display commercial advertisements. Therefore, there is no doubt that you will see ads on your screen, but you should definitely not expect that you can save money at online stores by simply installing this application on the system. Have you already noticed that Deal Maveric is a very annoying program? If so, you can erase this program rather easily. We will explain you how to do that further in this article.
Deal Maveric is not a unique application. In fact, it has replaced Wander Burst, Roaming Rate, Dragon Branch, and Record Page. Of course, it acts in the same manner as previously published adware programs. In other words, it just show commercial advertisements and does not do anything else. It will not start acting somehow differently in the future too, so we think that it would be best to eliminate it. It is not advisable to keep this adware program installed because its advertisements might redirect you to corrupted websites. In addition, this program will record some details about you. Luckily, these details are not personal, but still the publisher of Deal Maveric might find out something about you. If you do not feel comfortable knowing that, you can erase Deal Maveric whenever you want to. Of course, the sooner you do that, the better.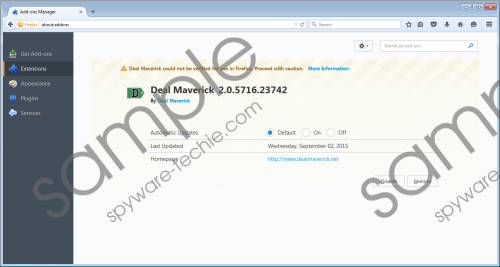 Deal Maveric screenshot
Scroll down for full removal instructions
As you have probably understood, there are many members in the Injekt family of adware programs. Our researchers say that other adware programs might enter the system very quickly if you tend to download programs and other files from third-party websites and various torrents. On top of that, there is no doubt that there is a bigger possibility to encounter adware if you do not have a security tool installed on your system. It is not so easy to protect the system from malicious software. In fact, we do not even think that ordinary users will be able to do that. Therefore, we highly recommend installing a security application on your computer. If you do not know which tool to install, you should invest in SpyHunter. You will definitely not make a mistake if you do that.
Deal Maveric is not a program that should be kept on the system because it is useless and it might cause harm to your system. Luckily, this advertising-supported application can be eliminated via Control Panel like any other application. In other words, it will not be difficult to erase it from the system. You can use our manual removal instructions if you need some help. If it happens that you still cannot delete this adware yourself, you should use an automatic tool. You will have to scan your system once in order to erase all the existing infections. An automatic tool will also help you to protect your system from future threats that can be much more harmful.
How to get rid of Deal Maveric
Windows XP
Click the Start button.
Select Control Panel.
Click Add or Remove Programs.
Select the unwanted software and click Remove.
Window 7 and Vista
Tap the Windows key.
Select Control Panel from the menu.
Click Uninstall a program.
Right-click on Deal Maveric.
Click Uninstall.
Windows 8/Windows 8.1/Windows 10
Launch RUN and enter Control Panel.
Click OK.
Click Uninstall a program.
Right-click on the untrustworthy application.
Click Uninstall.
In non-techie terms:
If you have erased Deal Maveric manually, there is a slight possibility that other undesirable programs are still on your system. Use the diagnostic tool in order to check your system's condition. You will be able to download it from this website.