Do you know what DC Locknet is?
DC Locknet is an adware application that you installed on your computer yourself. You are probably now going to say that you did not even think of installing this application, but the truth is that DC Locknet requires a user's permission to enter the target computer, so you clearly went through the installation process. Adware applications are created to generate financial profit for their developers. They do not employ any illegal methods to achieve that, but they can be exploited by malevolent third parties. It is necessary to remove DC Locknet from your system to avoid potential exploitation.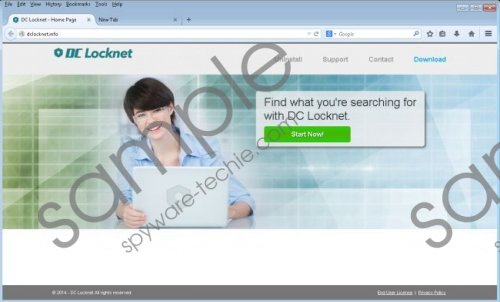 DC Locknet screenshot
Scroll down for full removal instructions
This program has a dysfunctional homepage at dclocknet.info. It is dysfunctional because there is no direct download link that would allow you to download DC Locknet onto your computer. Our research team says that the main distribution method employed by DC Locknet's creators is bundled downloads. Research shows that this adware application always comes bundled with other third-party installers and downloaders. This means that you need to be cautious if you often download freeware apps from unfamiliar websites. In fact, it would be for the best if you refrained from downloading freeware. Unless you download a program from a legitimate vendor's website, you should think twice before installing it on your computer.
To tell you the truth, there is nothing new about DC Locknet that would surprise us. After all, it is an adware application from the SuperWeb family. Thus, we know that it is exactly the same as Boxed Books, Donkick, Rad Raven, Storimbo, and many other unwanted programs. We also know how to remove DC Locknet. Manual removal is not complicated, because all you have to do is delete this application via Control panel. On the other hand, it might take some time before you notice that you have this unwanted application on your system.
Even if you do not know when DC Locknet entered your computer, you will definitely notice when this application starts displaying commercial adverts. The pop-ups will appear on your screen when you access popular online shopping malls, like BestBuy, eBay, or Amazon. DC Locknet ads will appear to be related to your most recent searches. However, that is no reason to click them, because the program is not responsible for the ad content. Consequently, malevolent third parties could embed their own corrupted links into DC Locknet ads, and you need to avoid that.
Remove DC Locknet right now, and then do not forget to scan your system with the SpyHunter free scanner. It is important that you check for other unwanted applications, as DC Locknet does not come alone. Do not hesitate to invest in a licensed antispyware tool if need be.
How to remove DC Locknet
Windows 8
Slide the mouse cursor to the bottom right of the screen.
Click Settings on the Charm bar and go to Control panel.
Open Uninstall a program and remove DC Locknet.
Windows Vista & Windows 7
Open the Start menu and click Control panel.
Go to Uninstall a program and remove DC Locknet.
Windows XP
Click the Start menu button and navigate to Control Panel.
Select Add or remove programs and uninstall DC Locknet.
In non-techie terms:
DC Locknet is a program that spams you with annoying pop-ups. It also checks what websites you visit and may accidentally share this information with cyber criminals. You need to prevent this from happening by removing DC Locknet right away.