Do you know what DatingDone is?
DatingDone is an adware application that should be removed from your computer immediately. Some users would even consider this program a malicious computer infection. We would not go that far, but it would not be too far-fetched to say because in some cases keeping this adware program on your computer could lead malicious infections. That is the worst case scenario, and it does not happen every single day, but every security-minded user should know when to back pedal. This is that kind of a situation where you should not wait any longer and delete the unwanted program for good.
The thing you should do right now is scan your computer with a powerful antispyware tool. You may ask, what is the big deal if DatingDone is not a dangerous application? Well, the problem is that these apps often come in packs, and if you happen to have this program on-board, then the chances are that you have many other unwanted applications as well. That would explain why your computer has been so slow and irresponsive lately. Also, have you been having trouble browsing the Internet? Do you find it hard to find the site you want when you get assaulted with multiple commercial offers?
These commercial offers probably are promoted by third parties that make use of DatingDone's advertising space. Almost all adware applications thrive on third-party advertising, and they seldom check whether the content they display is reliable. In fact, the only thing this application is concerned about is whether it will get some profit or not. Each time you click an ad that was delivered to you via this application; you help the people behind it make money via the pay-per-click system. Unfortunately, you get nothing in return. It might be even worse: sometimes you could land on a dangerous website.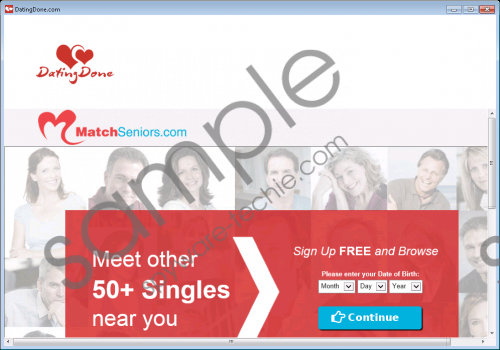 DatingDone screenshot
Scroll down for full removal instructions
Perhaps it would be easier if you could blame DatingDone for whatever happens to your computer and your data, but the application is not liable, as it disowns responsibility for the third-party behavior. Thus, you are entirely on your own, and if you accidentally get infected with malware, you will have to find a way to fight it yourself. That is why it is important to invest in a licensed antispyware tool that would protect you and your computer from dangerous intruders. Regular system scan with a computer security tool of your choice will safeguard your system, and you will be sure that our information does not get leaked to a malevolent third party.
You must be wondering, how DatingDone managed to get installed on your PC if you did set up the application yourself. Well, this app is similar to NewsCert, Moneyzila, CareerPronto, and other potentially unwanted programs. All of them have their official websites with working direct download links. In fact, you can easily download the program in question from datingdone.com. Although here you would probably say that you did not download this program, so what is up with all this? The point is that you do not really need to download this program directly to have it installed.
DatingDone might have been set up with a list of additional programs when you installed some freeware application. If you have recently downloaded some program from a third-party file sharing website, it is not surprising that your computer is full of annoying apps. It would be possible to avoid such things if you went through the installation carefully. Third-party installers often include additional steps where they explain you about third-party programs that you are about to install on your system. If you fail to read those notes and just go through the installation wizard blindly, you end with an entire palette of applications you do not need.
It is not much of a problem if those applications are like DatingDone. They may just pretend they offer some useful function and display commercial ads instead. However, sometimes bundled software brings Trojans, ransomware, worms, and many other dangerous infections. So you should employ safe web browsing habits to protect yourself from severe computer security threats.
You can find the manual DatingDone removal instructions right below this description, and if you think that you need any assistance with that, do not hesitate to ask us a question in the comment box. Our team is always ready to assist you.
How to Delete DatingDone
Windows 10 & Windows 8.1
Press Win+R and enter Control Panel into the Open box.
Click OK and select Uninstall a program.
Highlight the unwanted application and click Uninstall.
Windows Vista & Windows 7
Click the Start menu and go to Control Panel.
Open Uninstall a program and remove the unwanted application.
Windows XP
Open the Start menu and navigate to Control Panel.
Select Add or remove programs and uninstall the adware application.
In non-techie terms:
There is nothing good or reliable about DatingDone. In fact, this program cannot even help you get a date! The only thing it is good for is third-party advertising, and if you keep this application on your PC, you will be flooded with annoying pop-up ads that will expose you to dangerous third-party content. Do yourself a favor and delete this application immediately. While you are at it, terminate all the other unfamiliar and unwanted programs as well.