Do you know what Dansk Rigspolitiet virus is?
Dansk Rigspolitiet virus is a ransomware program that locks you out of your computer. It infects computer users in Denmark and it comes from the same group of malicious infections as Din computer er blevet låst virus, Politiet Kongeriget Danmark Virus and other similar applications from Ukash Virus family. Dansk Rigspolitiet virus pretends to be a legal representative of the Danish Police, and it claims that your desktop has been locked due to a number of reasons. Unless you remove Dansk Rigspolitiet virus from your computer, the notification that is presented below will remain on your screen:
OBS! Computeren er blevet blokeret af sikkerhedsmæssige årsager anført nedenfor.

Du er anklaget for visning/lagring og/eller spredning af forbudte pornografi (børnepornografi/dyresex/voldtægt osv). Du har overtrådt World Declaration om ikke-spredning af børnepornografi. Du er anklaget for at begå forbrydelsen omhandlet i artikel 161 strafferet af Kongeriget Danmark.
The notification on your screen declares that you have violated several national and international laws, by distributing child pornography and other prohibited material. Based on the Danish Criminal Code, you may face up to 7 or even 11 years in jail, and if you want to avoid this sentence you need to make use of Ukash or PaySafeCard alternative payment systems and transfer a DKK 1000 fine within 48 hours since the infringement. Dansk Rigspolitiet virus makes use of alternative payment methods, because they do not require bank account or credit card information. Therefore, even if a user does not have a bank account, Dansk Rigspolitiet virus still can steal his/her money!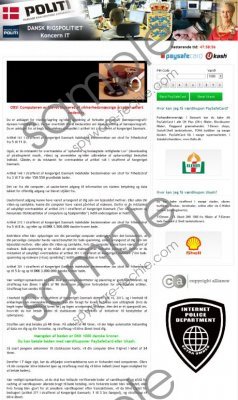 Dansk Rigspolitiet virus screenshot
Scroll down for full removal instructions
You must not panic, because Dansk Rigspolitiet virus threats are not real and this malware has no relation with the law enforcement authorities whatsoever. The ransomware only wants your money, but it will not delete your personal files, nor will it forward your personal data to the court. It is important to understand that you have committed no crime, and Dansk Rigspolitiet virus simply tries to swindle you out of your money.
You need to terminate this infection at once, and you will be able to succeed if you restore your desktop access and then invest in a computer security program that will remove Dansk Rigspolitiet virus for you automatically. Do not forget that ransomware arrive with Trojan infections, so you will definitely have a lot more malicious threats to take care of, once you have unlocked your desktop.
How to unlock my PC
Windows 8
Press Windows key and metro Start menu will open.
Click Internet Explorer tile and enter http://www.spyware-techie.com/download-sph into the address bar. Press Enter.
Click Run on the download dialog box and install SpyHunter.
Run a full system scan.
Windows Vista & Windows 7
Reboot the PC and tap F8 repeatedly for Advanced Boot Options menu to open.
Use arrow keys to navigate and select Safe Mode with Networking. Press Enter.
Access http://www.spyware-techie.com/download-sph and download SpyHunter.
Install the program and scan your PC.
Windows XP
Follow the steps 1 and 2 above.
Click Yes on a Confirmation box.
Download SpyHunter.
Open Start menu and click Run.
Enter "msconfig" into Open box and hit Enter.
Open Startup tab on System Configuration Utility.
Click Disable all and press OK to save changes.
Reboot the PC in Normal Mode.
Install SpyHunter and perform a full system scan.
Should you have any questions about how to protect your PC or how to remove Dansk Rigspolitiet virus from your system, leave a comment below.
In non-techie terms: Dansk Rigspolitiet virus is a dangerous computer infection that wants you to give away your money. Use instructions above to restore your desktop access and then remove Dansk Rigspolitiet virus from your PC for good.
Aliases: DanskRigspolitiet virus.