Do you know what Cyprus Police Emergency Response Unit Virus is?
Cyprus Police Emergency Response Unit Virus is a ransomware which may affect the operating Windows systems of those users who live in Cyprus. The attack of the infection begins with the infiltration of the dangerous Urausy Trojan. Schemers may utilize spam email attachments, fake video codecs and other drive-by download scams to infiltrate this malignant threat onto the computer. As soon as the Trojan is in place, it can employ rootkits to conceal the presence of malignant processes. This means that the threat may run on your system without being detected and removed for a long time. Needless to say, if you employ reliable spyware detection and removal tools, you will not need to worry about any computer infections. Of course, if the Trojan has been infiltrated and your computer has been locked, you need to delete Cyprus Police Emergency Response Unit Virus right away.
Even though the Trojan can run secretly in the beginning of the attack, you will not be able to overlook the misleading notification blocking access to the desktop. Here are a few excerpts:
ΠΡΟΣΟΧΗ! Ο αποκλεισμος του υπολογιστη σας εχει γινει λογους ασφαλειας, που αναφερονται παρακατω. [...]
Το ποσο του προστιμου ειναι €100.
Με τα κουπονια PaySafeCard η Ukash μπορειτε να επιλυσετε το προστιμο.
The text of the bogus notification is identical to the alerts linked to Dirección Nacional de Policía Técnica Virus, Útvar pro Boj proti Kyberkriminality Virus, and other well-known ransomware infections. Of course, since the threats are targeted at different countries, the notifications are represented in different languages. Moreover, the fake alert is embellished with different credentials. The logos of Copyright Alliance and Internet Police have been attached illegally, so you should have no doubts that authentic law enforcement agencies have nothing to do with the lock-down. Have you noticed the credentials of Μ.Μ.Α.Δ (Μηχανοκινητη Μοναδα Αμεσς Δρασης)? This is a trick as well, which is why the dangerous ransomware is also known as M.M.A.Δ. Virus.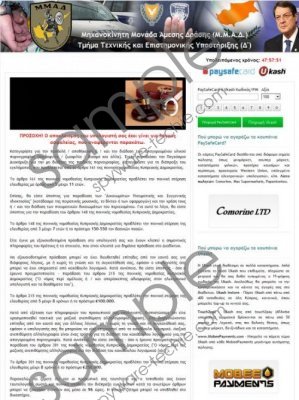 Cyprus Police Emergency Response Unit Virus screenshot
Scroll down for full removal instructions
The only goal behind the malicious ransomware is your money, so you should ignore the presented cyber crime accusations and dismiss the requested fine. It is unlikely that your computer will be unlocked if you pay the ransom, which is why we advise that you invest your money in reliable malware detection and removal software. If you do not know how to install it onto the computer – follow the instructions below, and soon enough Cyprus Police Emergency Response Unit Virus will be removed for good.
Delete ransomware from Windows
Delete from Windows 8:
In the Metro UI start screen move the cursor to the bottom-right corner to open the Charm Bar.
Select Settings, click Change PC Settings and then General.
Move to Advanced Startup, click Start Now and select Troubleshoot.
Click Advanced Options, select Startup Settings and hit Restart.
From the appeared menu select F5 to reboot the PC in Safe Mode with Networking.
Launch a browser and go to http://www.spyware-techie.com/download-sph .
Follow the provided instructions to install an automatic spyware detection and removal tool.
Perform a system scan and delete discovered malware.
Delete from Windows Vista/Windows 7:
Restart the computer, wait for BIOS to load and start tapping F8.
Using arrow keys select Safe Mode with Networking and tap Enter.
Download the automatic spyware remover SpyHunter
Install the downloaded tool to detect and remove computer infections.
Delete from Windows XP:
Restart the PC and wait for BIOS to load up.
Start tapping F8 to access the Windows Advanced Options Menu.
Use arrow keys to select Safe Mode with Networking and tap Enter.
When prompted with the Desktop alert – click YES.
Open the Start menu and launch RUN.
Enter msconfig and click OK to open the System Configurations Utility.
Click the Startup tab, select Disable All and click OK.
Download an automatic spyware removal tool SpyHunter.
Restart the computer in a normal manner.
Immediately install the tool and remove the running ransomware.
In non-techie terms:
It is recommended that you remove Cyprus Police Emergency Response Unit Virus from the operating Windows system as soon as possible. In order to ensure that the task is completed successfully and that your personal computer is guarded against malware, you should install authentic spyware detection and removal software.
Aliases: Cyprus Police Virus.