Do you know what Cyclone Ransomware is?
When Cyclone Ransomware invades the operating system, it quickly encrypts files and then displays a window via which ransom demands are made. The name of the threat is shown at the top of the window, and so it is impossible for the victim to mistake it for anything else. Unfortunately, this is not one of those fake ransomware threats that display random messages to trick victims into paying ransom fees for no reason at all. It is a real infection, and if it slithers into the Windows operating system unnoticed, it can do real damage. After analyzing the code of the infection, our research team found that it can encrypt 167 different types of files, which include videos, music files, photos, and documents. All of these are classified as "personal" files, and the creator of the ransomware has chosen them because victims are likely to be more willing to pay the ransom that is asked for an alleged decryptor key. If you do not know this already, paying the ransom is a terrible idea. To learn more about this and the removal of Cyclone Ransomware, please continue reading.
Just like most other ransomware infections (e.g., Executionerplus Ransomware or Payment Ransomware), the suspicious Cyclone Ransomware is likely to spread using spam emails. The launcher of the infection can be camouflaged, and you might execute it without even knowing it. According to our research, once the ransomware is executed, it extracts files to a subfolder in the %TEMP% directory. At the same time, the threat also disables the Task Manager to ensure that you cannot disable any malicious processes. This could create problems for those who choose to delete Cyclone Ransomware manually. A reboot to Safe Mode might be required. Once the infection establishes itself and receives an encryption key, it starts corrupting files. Immediately after that, the ransomware window is opened. It cannot be resized or closed, and that can cause removal issues as well. Although that should make it impossible for you to check which files were encrypted (the ones encrypted will have the ".Cyclone" extension attached to their names), you can click "View Encrypted Files" on the main window to check the full list of corrupted files.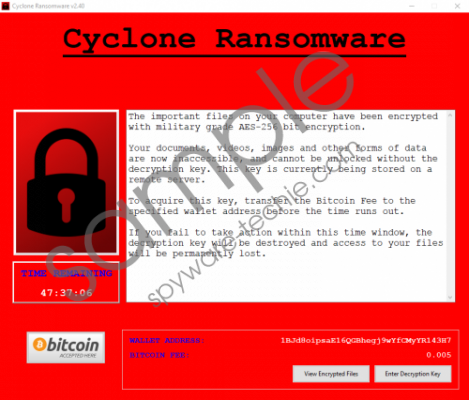 Cyclone Ransomware screenshot
Scroll down for full removal instructions
The ransom note linked to Cyclone Ransomware informs that you can recover files if you obtain a decryption key, which is offered for 0.005 Bitcoin. You are meant to pay the ransom within 48 Hours to the specified Bitcoin Address (1BJd8oipsaE16QGBhegj9wYfCMyYR143H7). At the time of research, 0.005 BTC was 75 USD, which is not a huge ransom compared to what other well-known infections demand. Nonetheless, paying it is a bad idea because you are unlikely to get the decryptor and free your files. Of course, if you are willing to take the risk, it is up to you, but remember that the chances of you getting what you need are very small. Are your personal files backed up, and you do not care about recovering the encrypted copies? This is the ideal situation because you can delete Cyclone Ransomware without further hesitation. Needless to say, all victims must delete this threat because it is an instrument in the hands of malicious cyber criminals.
Whether you want to remove Cyclone Ransomware manually or you want to install anti-malware software to help you out, you will need to reboot to safe mode. In the later case, of course, you will need Safe Mode with Networking so that you could have access to the Internet. If you follow the instructions below, you should be able to eliminate the infection manually. Of course, we cannot guarantee that you will be able to identify the launcher file or other components, and so it is better if you install anti-malware software and get the threat eliminated automatically. You can fill two needs with one deed by installing it because it will also take care of further protection, and you will not need to worry about other ransomware threats in the future.
Remove Cyclone Ransomware
Reboot Windows 10/Windows 8
Tap Ctrl+Alt+Delete (opens a menu) and then open the Shut down options menu (arrow next to the Power button).
Press Shift on the keyboard and then click Restart.
In the Troubleshoot menu move to Advanced options and then to Startup Settings.
Click Restart and then reboot to Safe Mode (F4) or Safe Mode with Networking (F5).
Delete malicious components.
Reboot Windows 7/Windows Vista/Windows XP
Restart the computer and immediately start tapping the F8 key.
When the Boot options menu appears select Safe Mode or Safe Mode with Networking and then tap Enter.
Delete malicious components.
Delete malicious components
Right and Delete the malicious launcher of the ransomware (you might find it on the Desktop, in the Downloads folder, or in the %TEMP% directory).
Launch Explorer by tapping Win+E keys and then enter %TEMP% into the bar at the top.
Check for any unfamiliar folders and malicious files. If any are found, Delete them.
Launch RUN by tapping Win+R and then enter regdit.exe into the dialog box.
In the pane on the left move to HKCU\SOFTWARE\Microsoft\Windows\CurrentVersion\Run\.
Delete the key named Crypter (represents the launcher of the ransomware in the value data).
Reboot PC back into normal mode and then immediately perform a full system scan.
In non-techie terms:
If your operating system got invaded by Cyclone Ransomware and your personal files were encrypted, there is a possibility that you will not be able to recover them. The decryptor proposed by the ransomware is only meant to trick you into agreeing to pay the ransom, and, in reality, it is unlikely to be offered to you. Due to this, we suggest focusing not on the payment of the ransom but on the removal of Cyclone Ransomware. You might be able to delete this threat manually, but it is better if you utilize an anti-malware tool that will also keep up with your system's protection after automatically deleting existing malware.