Do you know what Cyclon Gems is?
Cyclon Gems is classified as adware in the security community and it was developed by Ad Business Crown Solutions S.L. Most of the time it targets Spanish user, but do not be careless, because any user from any country could be hit by this unwanted application. Mostly this potentially unwanted application will be advertised as being able to deliver personalized offers/discounts etc. while you are web shopping. At first this might seem as a useful tool, but in reality it is nothing much more than just a program that will annoy you with endless adverts, pop-ups and interrupt your browsing experience in general.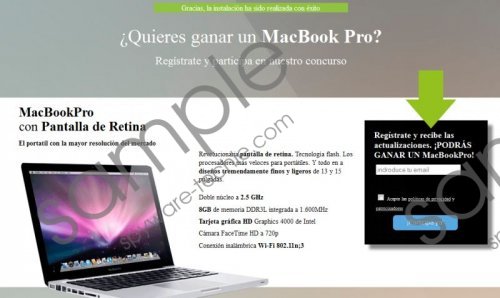 Cyclon Gems screenshot
Scroll down for full removal instructions
Cyclon Gems affect all popular browsers on the market (Google Chrome, Mozilla Firefox, Internet Explorer) thus there is no way to avoid the pop-ups, just by switching to a different browser. Basically Cyclon Gems will gather traffic by luring an unsuspected user into the allegedly legitimate offers. The more clicks this application gathers, the more profits it will make. A user does the dirty work without any knowledge. Remove this application ASAP, as you will not benefit in no way if you will leave it on your system, eventually it might turn out to be very harmful.
Once Cyclon Gems is on your computer you will experience numerous pop-up advertisements, coupons with various so called discount offers from a lot of big vendors online e.g. eBay, Amazon, Target etc. Another feature that is common with this application is that you will be displayed redirection adverts; it will redirect you to third rate online vendors, which are suspicious to say the least. By being lured into a hoax website a user might, without event thinking, enter and provide third-parties with sensitive data e.g. social security number, bank details, email account details, address etc. It has been recorded that a lot of these third rate websites are designed precisely for this purpose. Thus it is obvious why you should remove Cyclone Gems immediately!
One more feature that is in no way helpful to users is the fact that Cyclon Gems will monitor browsing activities. These will include your browser type, browsing history, browser language, searches, IP address, Internet Service Provider (ISP). By gathering this data Cyclon Gems will be able to provide you with adverts tailored and targeted especially to you. This kind of technique is likely to manipulate you into clicking links to various websites. It is only natural that the more you click on dubious links the more you are likely to land on a harmful malicious website, as there is no way to tell what kind of companies and vendors are partners with the creators of Cyclon Gems.
Just like a lot of applications of this kind it will most likely be bundled with some kind of freeware or shareware. These will often come from a download client of some kind e.g. CNET, ClickDownload, Brothersoft and may others. Often these download clients will bundle software as a part of their marketing strategy. Users are commonly commonly to skim through the installation process, thus getting third-party software on their system without any knowledge. There is no other way to avoid this, than reading! Read everything that is on the installation screen! You might lose some time, but you will save the time that you would spend in order to remove the unwanted application from the system.
Numerous reports show that cybercriminals and creators of unwanted applications like Cyclon Gems are fond of exploiting such widespread applications as Adobe Flash and Java. Various hoax websites will have pop-up messages popping up all the time telling the user that their Adobe Flash player or Java is out of date. This is just a manipulation: if a user clicks on a so called update button, he allows an installation process to take place on the system. That update installer could be filled with unwanted malicious applications. Thus always check if there was an update issued lately with the official developer website in order to avoid getting infected, or just installing any other dubious third party software.
Fortunately, it is quite easy to remove Cyclon Gems from your system. Just by uninstalling the application from Control Panel will do the trick: you will be free of annoying pop-ups, adverts etc. But a few traces might be left, thus further antimalware removal is needed to clear the system completely. Fallow the guide and you should be able to delete Cyclon Gems easily. If you are not comfortable to perform a manual removal yourself, please use a professional antimalware tool in order to delete the unwanted application. We strongly recommend SpyHunter as it is a leading tool in the field. A scan after manual removal is also always recommended as you might never know what you have missed.
How to remove unwanted application
Windows 8
Move mouse cursor to the bottom right corner of the screen
Click Settings on Charm bar and go to Control Panel
Select Uninstall a program and remove unwanted application
Windows Vista & Windows 7
Open Start Menu and select Control Panel
Go to Uninstall a program and remove unwanted application.
Windows XP
Click Start menu button and navigate to Control Panel
Select And or remove programs and uninstall unwanted apps.
In non-techie terms:
The first step that you must take in order to avoid unwanted applications like Cyclon Gems is installing professional and powerful antimalware tool on your system. Keeping it enable at all times is a must do! If you still have not decided on what application to use we strongly believe that SpyHunter scanner is one of the first-rate applications around, and that is why you should install it on your system ASAP.