Do you know what CyberSplitter 2.0 Ransomware is?
CyberSplitter 2.0 Ransomware is a malicious program, but you can hardly call it a dangerous threat. Even though the infection's message claims that all of your data was enciphered and you need to buy a decryption tool, in reality, the malware does not have the ability to lock any files. It means the only thing it can do is show users the warning message. Perhaps, the malicious program's creators are hoping to trick some users to pay the ransom. Needless to say, that if you came across CyberSplitter 2.0 Ransomware, you should delete it without any hesitation. To help our readers with this task, we will add a removal guide at the end of the article. We encourage users to read the rest of the text too, because next time you might be not so lucky, and it would be useful to learn how to avoid ransomware.
The threat could be spread with suspicious email attachments, so if you carelessly open such data without checking it first, you mind end up infecting the system with much more dangerous malware than CyberSplitter 2.0 Ransomware. When you receive a file via email, you should firstly see who the sender is. If it is someone the user is not familiar with, we recommend scanning the file with a reputable antimalware tool. Even if it looks like a harmless text document, picture, video, etc. because malicious software developers can disguise executable files and make them look less suspicious. Keep it in mind that when you launch the infected file, it might be too late, and it is better to be more cautious.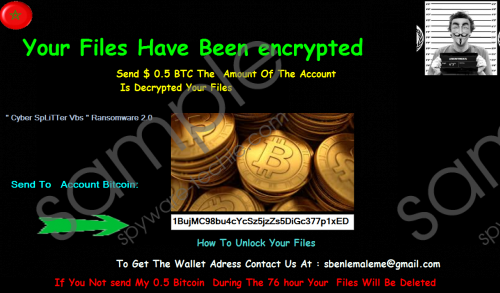 CyberSplitter 2.0 Ransomware screenshot
Scroll down for full removal instructions
However, when users open CyberSplitter 2.0 Ransomware's installer, the program does not start the encryption process as other similar malware. Apparently, it just displays a ransom note claiming that user's "files have been encrypted." The note also provides the address of a Bitcoin account where you are supposed to transfer 0.5 Bitcoins. Converted to US dollars the sum is around $390. As a price for a decryption tool that you do not even need to the amount is quite large. In fact, we would not recommend paying it even if the malware could encrypt the most precious files because there are always cases when cyber criminals receive the ransom, but still do not send the decryption tool. To put it in other words, you cannot tell who you are dealing with; thus purchasing decryption software is always risky.
Fortunately, you do not even have to consider paying the ransom as there is no point in doing so. Therefore, we would advise users to simply get rid of CyberSplitter 2.0 Ransomware and be more careful the next time. Users can delete the infection manually by erasing the malicious file they download themselves. For more detailed instructions you could check our removal guide available below this text.
It might be a good idea to check the computer for other threats too, because if this malicious application managed to settle in, it is possible there could be other ones as well. Especially if you have not cleaned the system for a long time. We would recommend doing so with a reputable antimalware tool. Once the system is checked and you have eliminated all possible threats, keep the tool updated, and it should continue to guard the computer against malware.
Remove CyberSplitter 2.0 Ransomware
Find the malicious file that might have been downloaded via email.
Select this file, right-click it and press Delete.
Empty the Recycle bin.
In non-techie terms:
CyberSplitter 2.0 Ransomware is another variant of Cyber Splitter Vbs Ransomware. Both of the infections only claim to encrypt user's data, but the new version asks users to pay just 0.5 BTC instead of one bitcoin. The ransom is supposed to be paid in order to get the decryption tool that would help you unlock the malware's affected data. Since the threat does not encrypt even a single file, we would advise you not to waste your money and eliminate it as soon as possible. If you take a look at the removal guide placed below you will find manual deletion instructions. The other way to erase the ransomware is to install a trustworthy antimalware tool and let it do the job for you.