Do you know what Cyber Splitter Vbs Ransomware is?
Cyber Splitter Vbs Ransomware is nothing more than a malicious application whose purpose is to encrypt your personal, most cherished files and demand that you purchase the decryption key from the developer to get them back. However, at present, this ransomware does not work, so it cannot encrypt any files, but it does not mean that it will stay this way. Our researchers say that this malicious application is still distributed and may connect to its C2 server and spring into action at any time. Therefore, it is paramount that you remove it as soon as you can. For more information about this ransomware, please read this short description.
Ransomware is a type of software that targets unprotected computers and once on them, scans for certain files and encrypts them. Cyber Splitter Vbs Ransomware is a typical ransomware, if it were to work, then it use an advanced encryption algorithm to encrypt preselected file formats that can include .dll, .exe, .pdf, .bin, .db, .dat, .mkv, .7z, .asp .avi, .bmp, and many others. However, it was configured to skip some locations such as %AppData%, %Windows%, %System32%, and %Temp% not to encrypt files that are necessary for Windows to run properly. Fortunately, however, it does not encrypt files at all, probably because it unable to connect to its Command and Control server which is likely to be down.
Our malware researchers have discovered that Cyber Splitter Vbs Ransomware contains code from Cerber Ransomware and Cerber2 Ransomware, but is not an exact copy of them. Hence, it might also use the AES-256 encryption algorithm to encrypt your files and render them useless. If that is the case, then it would be nearly impossible to decrypt the files for free. Still, a decryptor for Cerber Ransomware has been released, so we believe that security experts will also develop a decryptor for Cyber Splitter Vbs Ransomware as well. We recommend waiting for a free decryption tool because this ransomware's developer wants you to pay 1 BTC, an approximate $599.24 USD. Testing has shown that after encrypting your files, this ransomware would render a ransom note on the screen saying that the files were encrypted and the Bitcoin wallet address to send the payment.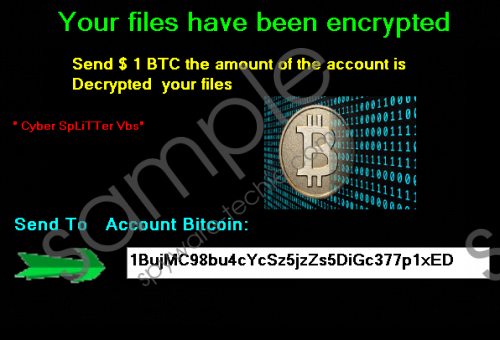 Cyber Splitter Vbs Ransomware screenshot
Scroll down for full removal instructions
If your computer has not been infected with this ransomware, then you should know how to avoid getting it on your PC. While Cerber Ransomware is disseminated as a RaaS (Ransomware as a Service) which means that it is sold underground to anyone willing to purchase it, this ransomware is simpler. Its developer does not sell it as our security experts have found that it is configured to infect unprotected computers through email spam. Emails containing this ransomware's dropper file are known to be sent from fake email addresses that try to trick you into thinking that you have received an email from your bank or some other institution or company and give you a hint to open the zipped file attachment that should be a simple file archive. But if you open the file inside it, then your computer will become infected with Cyber Splitter Vbs Ransomware. Therefore, you should be wary of the shady emails you receive and delete the suspicious ones at once. An anti-malware program would be able to stop this infection dead in its tracks even if you open the malicious file, so you should consider such an application.
However, if your computer has been infected with this ransomware, then you should not waste time and remove it as soon as possible. Researchers say that you can delete its main executable manually, but finding it can be a challenge because it is named randomly and can be placed anywhere on your PC. Therefore, we suggest using SpyHunter's free scanning feature to locate the executable, go to its location and remove it.
Removal Instructions
Install SpyHunter and scan the PC.
Once this malware is found, press Windows+E keys.
Enter the file path in the address line of File Explorer and hit Enter.
Right-click the executable and click Delete.
In non-techie terms:
Cyber Splitter Vbs Ransomware is a ransomware-type application that could encrypt your files, but currently it does not work and there is no telling whether it will in the future. If it did, however, then you should know that it can encrypt your files with an advanced encryption algorithm and demand that you pay a ransom to decrypt them, but we do not recommend that you pay it. Instead, you should rid your computer of this infection.