Do you know what CVLocker Ransomware is?
CVLocker Ransomware can slither onto your system without your knowledge and shock you with its ransom note that claims that your files have been encrypted. We are here to inform you that this is simply not true; at least, the current version of this threat that is spreading on the net seems to be harmless. In fact, it rather resembles an unfinished program but it may also be just a fake infection. Our researchers say that it is possible that a new version will emerge in the future that will actually do the job and encrypt your personal files. Therefore, it is vital that you are prepared for it and know how you can protect your computer from such an attack. We advise you to remove CVLocker Ransomware immediately even if it does not seem to cause any real harm.
You need to be very careful with your clicks while browsing the web if your computer is not protected by an up-to-date anti-malware program because you can easily click on corrupt third-party content, such as commercial ads, fake buttons, and fake system notifications. This ransomware, for example, may be disguised as an important update or download displayed to you while visiting a website. It is possible that a suspicious website generates this ad but it may as well be an adware program that previously infiltrated your system. You should never believe any banners and pop-ups that claim that you need software update or software because no one should have authorization to know anything about your system unless you let them. This should be suspicious right away. If you ever see such ads, you should close your browser and run a full system malware scan to see if there is any infection hiding on your computer.
In addition to clicking on fake downloads and updates, you can also infect your PC with this harmless beast via spam e-mails. This ransomware program can be delivered to your "door" in a spam mail that may convince you that you need to download and view its attachment right away. You may believe that this spam is sent by the local police or any other agency or company that you may consider legitimate or important. Such a spam may seemingly relate to a matter that you would consider important to check out. However, the attachment of this mail will not provide you with more information; instead, it will simply activate this ransomware attack. This file attachment only appears to be an image or document file but, in reality, it is a malicious executable. The only luck for you is that you can delete CVLocker Ransomware from your computer without damaging or losing your files for good. But you need to keep in mind that the next attack may not end well. Therefore, you should think about protecting your files.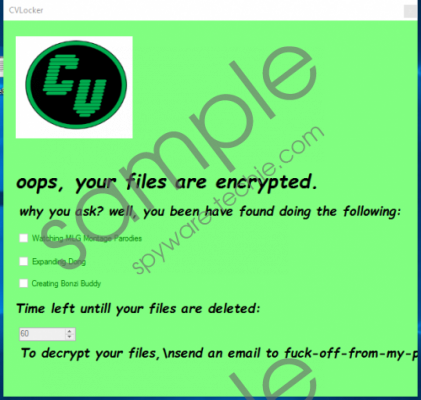 CVLocker Ransomware screenshot
Scroll down for full removal instructions
Although most ransomware programs leave a great devastation behind by generally using AES-256 and RSA-2048 algorithms to encrypt all your photos, videos, audio files, documents, archives, and third-party program files, this ransomware does not touch any of your files. Instead, it claims so. When you activate this infection, it simply covers your screen with its greenish ransom note window that informs you about the supposed encryption. The creators of this lame ransomware go as far as telling you why your files have been encrypted. Obviously, the reasons provided by these criminals are all made-up. This ransom note is either unfinished or fake exactly like this malicious threat itself. There is no mention of the amount of the ransom fee you are supposed to pay and the e-mail address you have to contact to decrypt your files is also questionable being "fuck-off-from-my-p." Fortunately, you do not need to rush to buy Bitcoins and spend hundreds of your hard-earned dollars on a decryption key or software that you would hardly ever get anyway from such criminals. If you are ready to act, here we are with the solution for you to be able to delete CVLocker Ransomware from your system.
Before you would start searching your system for suspicious files you have downloaded recently and deleting them all, we suggest that you stop the malicious progress through which this ransomware is operating. You can use our guide below if you need help with this. In order to avoid further infections, we suggest that you keep all your programs and drivers always up-to-date as well as keep away from shady websites and third-party advertisements. Nevertheless, the most effective way to protect your system is to install a reliable malware removal tool, such as SpyHunter.
Remove CVLocker Ransomware from Windows
Open your Task Manager by tapping Ctrl+Shift+Esc.
Click on "CVLocker" in the list of running processes.
Right-click on the malicious process and select Properties.
Memorize the content of the Location field on the General tab to find the malicious executable file and click OK.
Press End task and close the Task Manager.
Tap Win+E and find the malicious executable file.
Bin it.
Find and bin the suspicious file you saved from the spam or by clicking on corrupt content.
Empty your Recycle Bin and reboot your computer.
In non-techie terms:
CVLocker Ransomware is a new malware infection that may be one of the lamest of its kind. Our researchers cannot decide just yet whether this threat is for real or just a work in progress that hit the web a little too early. The truth is that this ransomware does not really do any damage to your files, i.e., it does not encrypt anything on your computer. Yet, it claims so in its ransom note that you should ignore as it is. You can easily remove CVLocker Ransomware from your system after you end the malicious process. Hopefully, you will understand now the importance of having a backup copy of your important files somewhere safe. We advise you to employ a professional anti-malware program to defend your PC against malicious attacks like this.