Do you know what CTB-Locker is?
CTB-Locker is a malicious ransomware Trojan that needs no permission to enter your operating system. Needless to say, the infection cannot attack secured operating systems, and so it mainly targets those that are unguarded by reliable security software. CTB-Locker needs one file to start its attack, which is the installer. If this installer is executed PC successfully, the ransomware immediately takes over your operating system and encrypts personal files. Unfortunately, in most cases, it is impossible to restore these files even if you delete CTB-Locker successfully. Of course, the threat requires immediate removal, because it is unpredictable, and it could pose various security threats. You must delete the infection even if you do not manage to restore your personal files.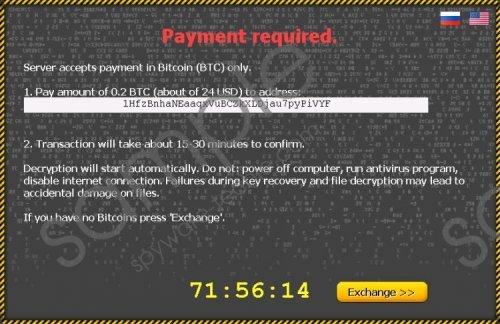 CTB-Locker screenshot
Scroll down for full removal instructions
Once installed, CTB-Locker changes the background of your screen, but even without this screen, the next time you restart your PC you should realize that you need to delete a ransomware, because it will not allow you to open personal files. The background of the screen will be changed to a ransom alert, according to which, you need to pay 0.2 BTC (around 24 USD) in order to have your files restored. This lets you know that your files are not removed; they are only encrypted. Here are a few excerpts.
Your personal files are encrypted.
Your documents, photos, databases and other important files have been encrypted with strongest encryption and unique key, generated for this computer

You only have 72 hours to submit payment. If you do not send money within provided time, all your files will be permanently crypted and no one will be able to recover them.
Users are forced to download the Tor browser, connect to a specific site, and apply the so-called public key that is provided within the instructions. If you follow the instructions, you will have to pay a ransom and wait for the files to be decrypted. Unfortunately, there are no guarantees that your files will be decrypted, because CTB-Locker has been designed by cyber criminals, and it would be foolish to think that they care about your personal files. Once you pay money, you will not be able to track it down, which means that you might lose your money for no good reason. Of course, if your files are important and you do not want to lose them, the price might not seem too high. Whether or not you decide to restore files – which you should not worry about if they are backed up – you must remove CTB-Locker.
It is extremely difficult to delete CTB-Locker from your operating system. However, you need to remove this clandestine ransomware from your PC ASAP. If you do not have the right removal skills needed for the successful removal of malware, we advise installing an automatic malware removal tool. You must install this software even if your files have been decrypted after paying the requested ransom.
In non-techie terms:
The clandestine ransomware CTB-Locker can corrupt your personal files and ask you for a ransom. There are no guarantees that your personal files will be decrypted after you pay the CTB-Locker ransom, which is why we do not recommend making any rash decisions. If you cannot download an automatic malware removal tool to delete CTB-Locker from your PC, use the following removal guide.