Do you know what Crystal Ransomware is?
Crystal Ransomware is not one of the prevalent ransomware infections right now, but this might change one day, so we want you to know that such a threat exists, how it is usually distributed, and how it acts. Generally speaking, it is a typical ransomware infection that encrypts files it finds stored on a compromised machine. At the time of writing, it could perform the encryption of files only in its creator's testing environment, but we cannot promise that you will find your files intact if you ever encounter it. If your files have already been locked, it will surely not be a piece of cake to unlock them because Crystal Ransomware has been programmed to encrypt files with AES, which is a strong cipher. Usually, ransomware infections demand money after encrypting users' personal files, but it seems that Crystal Ransomware is not one of them because it does not drop any ransom notes asking money. Well, at least the version our team of malware researchers has analyzed does not do that. As has already been mentioned above, it might be updated one day and, if it happens, you might get an offer to purchase a decryptor and unlock your files. No matter what ransomware infection users encounter, they should not even think about sending money to cyber criminals because there are no guarantees that the tool they get could unlock files, not to mention that it might not be sent to them even if they transfer money.
Some ransomware infections lock Desktops, whereas others encrypt users' files right after the successful entrance. Crystal Ransomware belongs to the second group of ransomware infections. It goes to lock documents, pictures, music, videos, and all downloads. These files it encrypts get a new extension .CRYSTAL appended to them, which explains why this malicious application has received the name Crystal Ransomware. The version our specialists have tested does not demand money, but you might encounter its updated version demanding money in the future because the chances are high that this ransomware infection has also been developed by cyber criminals with the intention of obtaining money from users. You should not pay money even though purchasing a decryptor might be your only chance to get files back because you might lose your money for nothing. Frankly speaking, not all the users need to purchase special software from cyber criminals to be able to unlock their files, and you might be one of them. These are users who have backed up their files at least for once. Obviously, this backup cannot be stored on the compromised machine. Unfortunately, there might be no other ways to decrypt files for free.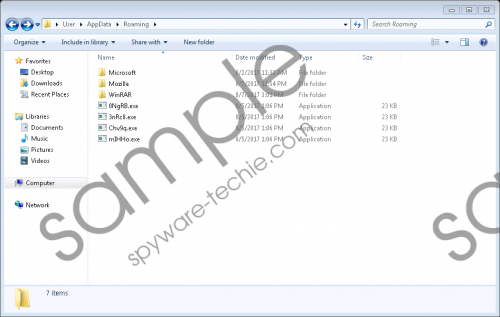 Crystal Ransomware screenshot
Scroll down for full removal instructions
It is hard to say how Crystal Ransomware will be distributed in the future because it is not spread actively yet, but our specialists suspect that good old distribution methods will be adopted. That is, it will be spread via spam emails. Once a user opens a malicious attachment and allows this infection to enter the system, it immediately locks files, but it is surely not the only activity it performs. It has been noticed that it also creates a point of execution (PoE) in HKCU\SOFTWARE\\Microsoft\Windows\CurrentVersion\Run, copies itself to the %APPDATA% directory, and, finally, creates its copies in the Startup (%APPDATA%\Microsoft\Windows\Start Menu\Programs\Startup) folder. Also, it might connect to its C&C server and get such commands as to disable the Windows Firewall, open certain websites in the background, download and execute files, send the information about the computer, etc. From a technical standpoint, Crystal Ransomware is quite a sophisticated malicious application. This is also one of the reasons it cannot be kept active on the system.
Remove Crystal Ransomware as soon as possible because it will start working again with every system restart and, as a consequence, will encrypt your files again and again. If you have never deleted a ransomware infection before, we recommend using the manual removal guide provided below this article. You must erase this infection fully, so if you are not sure you could do this by yourself, let an automated malware remover help you.
Delete Crystal Ransomware
Press Ctrl+Shift+Esc.
Open the list of processes.
Kill all suspicious processes and close Task Manager.
Press Win+E.
Go to %APPDATA%\Microsoft\Windows\Start Menu\Programs\Startup and delete four random-named executable files.
Delete four .exe files having random names from %APPDATA%.
Close Explorer and open Registry Editor.
Open HKCU\SOFTWARE\\Microsoft\Windows\CurrentVersion\Run and delete the CRYSTAL Value.
Delete recently downloaded suspicious files.
Empty Recycle bin.
In non-techie terms:
Crystal Ransomware is a nasty infection that might encrypt your files if it ever enters your system successfully. It targets pictures, documents, videos, downloads, and much more, so its entrance might result in the loss of valuable data. It is nothing new – a bunch of ransomware infections classified as ransomware acts like this. Do not allow them to enter your computer – install a security application and keep it active all the time.