Do you know what CryptWalker Ransomware is?
If you cannot use the computer as usual because of a threatening warning with an picture of Jigsaw , you are probably dealing with the CryptWalker ransomware, which might be identified as the Jigsaw ransomware by some anti-malware programs. Once on the computer, the CryptWalker ransomware encrypts files so that you cannot access them and displays an intimidating warning encouraging you to follow the attacker's instructions. In order to restore your lost files, you are supposed to pay a ransom fee, but security experts strongly advise victims against doing so in order to prevent money loss which is decidedly obvious because ransomware creators do not tend to decrypt their victims'data. Even if they did, that would probably be done because of some unclear reasons. Moreover, files encrypted by the Jigsaw ransomware can be decrypted using a third-party decryption tool, and if you choose to use one, bear in mind that you do that at your own risk. Our advice is to remove the CryptWalker ransomware from the computer and ensure that no similar instances will occur in the future.
Once on the computer, the CryptWalker ransomware encodes files that have certain extensions, including frequently used ones such as .jpg, .png, .docx, .mp3, .pdf, .rar, .zip, and some more. Every encrypted file is marked by adding the extension .CryptWalker. Additionally, the CryptWalker ransomware is programmed to delete the victim's file, which is not usually done by the vast majority of ransomware infections. According to the ransom note displayed, a reboot of the computer will result in the removal of 1000 files. The infection also requires a ransom fee in Bitcoin, which is a digital currency allowing users to make anonymous untraceable payments. Interestingly, the CryptWalker ransomware does not provide a fixed release sum. The victim is asked to pay at least 300 dollars, which implies that interested victims who could pay more if they can afford it. We strongly advise you against paying the ransom fee, because the CryptWalker ransomware is another attempt to obtain money from inexperienced computer users. You should remove the CryptWalker ransomare from the computer as soon as you can so that it does not delete your files or cause any other technical issues.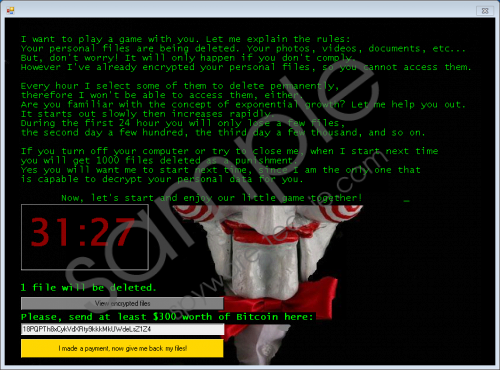 CryptWalker Ransomware screenshot
Scroll down for full removal instructions
It is essential to remove any type of infection running on the computer so that no further damage is inflicted. Your affected computer can again get infected at any time if you do not take any measures to prevent malware attacks. Malware, which by default includes ransomware, spreads in different ways, including spam emails, pop-up advertisements, RDP configurations, to mention just a few. You should evaluate every questionable piece of online content critically to prevent new instances of malware infiltration. Staying away from questionable or unreliable content is a must in order to minimize the risk of getting the PC affected. Moreover, it is important to keep the operating system and software updated. On top, the operating system should have a reputable anti-malware program capable of fighting off malware of different types.
When it comes to malware removal, it is possible to remove the CryptWalker ransomware manually, and you can try doing so with the help of the removal guide given below. You should bear in mind that you make changes on your computer at your own risk, and those changes include alterations in the Windows Registry, which is a database of multiple Windows settings. If you find the removal guide too complex, implement a professional malware removal tool which will terminate the CryptWalker threat for you immediately and also shield the system against other threats.
How to remove CryptWalker Ransomware
Press Win+R and type in %APPDATA%.
Click OK.
Remove the file firefox.exe from the Frfx folder.
Use the following pathways to access the .txt files and the file dr:

%APPDATA%\System32Work\Address.txt
%APPDATA%\System32Work\dr
%APPDATA%\System32Work\EncryptedFileList.txt

Access the following directories and delete the files named drpbx.

%LOCALAPPDATA%\Drpbx\drpbx.exe
%UserProfile%\Local Settings\Application Data\Drpbx\drpbx.exe

Press Win+R and type in regedit. Click OK.
Follow the path HKCU\Software\Microsoft\Windows\CurrentVersion\Run and delete the value named firefox.exe.
In non-techie terms:
The CrytWalker ransomware is a destructive computer infection that encrypts files and deletes them in small numbers. The infection encrypts files with specific extensions and displays a warning requiring the victim to pay a release fee. Instead of paying up, it is highly advisable to remove the infection once it is noticed.