Do you know what CryptoTorLocker2015 is?
You will not know when CryptoTorLocker2015 slithers in your operating system, but it will not be difficult to realize when it attacks. The devious ransomware threat corrupts all shortcuts, so that you would have difficulty operating your Windows system, and it encrypts personal files using the so-called "unique public key RSA-2048". Unfortunately, it is much easier to keep the threat away than it is to remove it. Even though it is not that difficult to delete CryptoTorLocker2015 from your operating system if you employ the right tools, you must take into consideration that once you remove the threat, you will have no way to restore the encrypted files.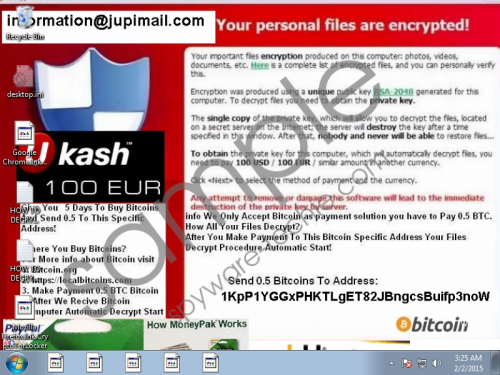 CryptoTorLocker2015 screenshot
Scroll down for full removal instructions
According to our researchers, CryptoTorLocker2015 usually encrypts text and image files. This is quite unexpected, considering that such ransomware lockers as Buyunlockcode or SuperCrypt (also require removal) can decrypt more files. Simultaneously, the threat also changes the background of your screen to a ransom message, which is why we identify CryptoTorLocker2015 as ransomware. If you face the following message, you can be sure that you need to delete a malicious ransomware threat.
Your personal files are encrypted!
Your important files encryption produced on this computer: photos, videos, documents, etc. […]
To decrypt files you need to obtain the private key. […]
To obtain the private key for this computer, which will automatically decrypt files, you need to pay 100 USD / 100 EUR / similar amount in another currency.
After corrupting all shortcuts and encrypting files, CryptoTorLocker2015 displays error messages advising to contact a certain email address for inquiries. Needless to say, you must not contact cyber criminals, because your email address could be used to introduce you to more malware or to more scams. Users are also introduced to "Attention" pop-ups asking to enter some password. This pop-up is associated with an unreliable file decryption tool, and you should not trust it. Of course, you will remove the irritating pop-ups and the disturbing screen notification only after you remove CryptoTorLocker2015. Note that if you click the "HOW TO DECRYPT FILES.txt" files, you will only open up messages asking to pay money in return of file decryption.
Are you thinking about paying the ransom? According to our research team, CryptoTorLocker2015 can delete files, in which case, it is unlikely that you will be able to restore your personal files. This is not an issue if you have these files backed-up, but if you do not, it is most likely that you have lost them for good. Overall, whether you try to restore files or not, you need to remove CryptoTorLocker2015, and you need to do it now! Do not attempt to remove the infection if you do not have the necessary experience and you do not know what you are doing. Instead, install an automatic malware removal tool that will delete CryptoTorLocker2015 – and other potentially active threats – automatically.
N.B. Even though CryptoTorLocker2015 blocks shortcuts to browsers, you can access them to download an automatic malware remover SpyHunter.
Delete CryptoTorLocker2015
Simultaneously tap Win+R to launch RUN.
Type iexplore and click OK to open Internet Explorer.
Enter http://www.spyware-techie.com/spyhunter .
Click the Download button and install an automatic malware remover.
In non-techie terms:
CryptoTorLocker2015 is a malicious ransomware that you need to delete from your operating system regardless of what you choose to do with the encrypted files. We recommend installing an automatic malware removal tool to delete CryptoTorLocker2015, and the instructions above will help you out. Keep in mind that the threat has been created by criminals, and all they want is your money.