Do you know what Cryptoshadow Ransomware is?
Cryptoshadow Ransomware is a malicious application that adds .doomed extensions to the files it enciphers. The malware locks your data with a secure cryptosystem, so after it is affected, you might be unable to open it or do anything else with your personal files. The situation might seem to be disastrous if you did not create any copies of data for such emergencies. The whole idea of ransomware applications is to be able to extort money from the victims who accidentally infect their computers, but in this case, the malware's creators do not actually ask to pay anything or give any specific instructions what to do. Of course, even if you were asked to pay a ransom, we would advise against it. Therefore, it seems there is nothing else to do, but to eliminate Cryptoshadow Ransomware. For instance, you could continue reading the text and then delete the threat with the removal guide placed below the article.
Our researchers are still not sure about the malware's distribution method. Same as other similar malicious applications it could travel with fake software installers, PDF or Microsoft Word documents, invoices, pictures, and so on. In other words, Cryptoshadow Ransomware's installer could be any file coming from unreliable sources. For instance, it might arrive with attachments or links sent through Spam emails. This is why users should scan suspicious files with a reliable antimalware tool first instead of opening them right away. Keep it in mind that often the computer could be infected only if you launch malicious data, so it would be wiser not to rush and take your time when you receive or download data from unreliable sources.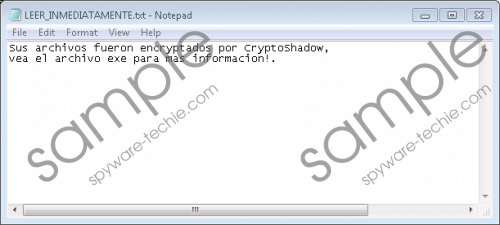 Cryptoshadow Ransomware screenshot
Scroll down for full removal instructions
While testing the malware, we determined that after the infection's malicious file is launched Cryptoshadow Ransomware places only one other file on the system. It is called LEER_INMEDIATAMENTE.txt, and if you translate it from Spanish, the title says "Read Immediately." The message inside the text document is also written in Spanish. The rough translation of it would be "Your files were encrypted by Crypto Shadow, see the exe file for more information!" It would mean there has to be another file on the system that could provide the instructions on how to pay the ransom and get the decryption tool. However, as we just said the sample we tested did not place anything else besides the mentioned text document.
Under such circumstances, it is impossible to pay the ransom and hope to receive the decryption tool even if you are willing to risk your savings. Thus, we would advise users to gather any copies they have from removable media devices, cloud storages, social media accounts, or from anywhere else where copies of your photos, videos, and other data might have been uploaded. You could replace these copies with enciphered data as soon as the computer is secure, which means you should get rid of Cryptoshadow Ransomware first.
To eliminate it manually, users should delete the malicious file they had launched before the infection appeared as it is explained in the removal guide available below. Just, keep it in mind that there might be other malicious software on the computer, and you might be unable to erase the malware yourself completely; thus, it could be wiser to use a reputable antimalware tool instead. Once the tool is installed, users can scan their system with it and wait till it detects threats automatically. As soon as the report shows up, you can click the deletion button, and the threats will be taken care of.
Erase Cryptoshadow Ransomware
Open the Explorer (Windows Key+E).
Access the Downloads, Desktop, Temporary Files, or other locations where the malicious file could have been downloaded.
Find the malicious file, right-click it and select Delete.
Locate a text document called LEER_INMEDIATAMENTE.txt, right-click it and press Delete.
Close the File Explorer.
Empty the Recycle Bin.
In non-techie terms:
Cryptoshadow Ransomware can lock most valuable data to the user, e.g. pictures, photos, videos, various documents, and so on. Unfortunately, you cannot decrypt affected files without decryption tools, and if anyone has such tools, it is only the cyber criminals who developed the malicious application. Nonetheless, if you were prepared for such situation and kept copies of your data somewhere safe, you can replace the damaged files with the copies. Just before you do so, it would be smart to take some precautions and eliminate the malware first. Users could try to get rid of it manually by following the removal guide located above or use a reliable antimalware tool.