Do you know what Cryptolockeremulator Ransomware is?
It is unlikely that anyone has encountered Cryptolockeremulator Ransomware yet because our research team has analyzed the most recent version of this malicious infection, and it was found that is not completed. Although we could wait for the threat to reach its full form and initiate attacks, it is better to warn users about this infection before it has even become a real threat. This way, users can take precaution and security measures to keep this threat away from their operating systems. Our research team will keep an eye on this potential threat, and if it evolves, this report will be updated. For now, we can discuss the current form of the threat and the dangers that it could potentially expose users to in the future. If you want to learn about the distribution, the activity, and the removal of this malware before it strikes you, please continue reading. Note that, at this point, a guide showing how to delete Cryptolockeremulator Ransomware manually does not exist, but if the threat is released, this will be updated.
The code of the current version of Cryptolockeremulator Ransomware indicates that this threat should use RSA encryption to corrupt files with these extensions: .3fr, .accdb, .ai, .arw, .bay, .cdr, .cer, .cr2, .crt, .crw, .dbf, .dcr, .der, .dng, .doc, .docm, .docx, .dwg, .dxf, .dxg, .eps, .erf, .indd, .jpe, .jpg, .kdc, .mdb, .mdf, .mef, .mrw, .nef, .nrw, .odb, .odc, .odm, .odp, .ods, .odt, .orf, .p12, .p7b, .p7c, .pdd, .pdf, .pef, .pem, .pfx, .ppt, .pptm, .pptx, .psd, .pst, .ptx, .r3d, .raf, .raw, .rtf, .rw2, .rwl, .sr2, .srf, .srw, .wb2, .wpd, .wps, .x3f, .xlk, .xls, .xlsb, .xlsm, and .xlsx. If these kinds of files are stored on your computer, you need to take care of them, and we recommend doing that by backing them up externally. Use an external drive or set up cloud storage to keep your personal files safe. When files are encrypted, they cannot be read, and only a special private key can solve this problem, and cyber criminals use it to trick victims into paying ransoms. Unfortunately, these victims never get what they need, which is why it is not recommended that you pay any attention to the ransom demands made by Cryptolockeremulator Ransomware or any other threat alike.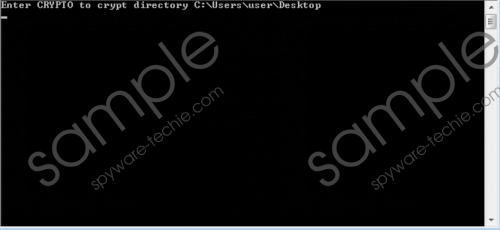 Cryptolockeremulator Ransomware screenshot
Scroll down for full removal instructions
When it comes to the distribution of Cryptolockeremulator Ransomware, you are most likely to encounter this malware when interacting with corrupted spam emails. This is how many other threats from this category are spread as well, including Cobra Ransomware, ABC Ransomware, or Jhash Ransomware. To conceal the threat's executable, it is concealed as a document file or something else harmless-looking. In most cases, users simply think that the file was corrupted or an error has occurred because it does not open. In reality, the threat is executed silently. Other methods of distribution exist as well, and cyber criminals are always looking for new ways to slip in malware without the users' notice. Malicious software bundles could be used to conceal the launcher. Already existing treats could also be responsible for executing the devious Cryptolockeremulator Ransomware. The possibilities are endless.
As it was mentioned already, the suspicious Cryptolockeremulator Ransomware is not a fully-formed threat, and so it would be irresponsible of us to provide you with a removal guide. Maybe it would be enough to erase the launcher file, but maybe you would have to delete a bunch of different components. In case you encounter the malicious threat, but this guide is not updated yet, you can let us know via the comments section. In the meantime, it is recommended that you install a trustworthy anti-malware tool right away to automatically remove Cryptolockeremulator Ransomware. We recommend installing software to keep yourself, your data, and your operating system protected against malware in the future.
In non-techie terms:
Cryptolockeremulator Ransomware is a potential threat that cyber criminals are building to infect Windows operating systems, corrupt personal files, and demand the victims to pay ransoms in return for alleged decryptors. Trusting this threat is not recommended under any circumstances, and the claims made via the ransom notes should not be taken seriously. Instead, if this threat is released, you need to focus on its removal. Since deleting Cryptolockeremulator Ransomware manually might be difficult, we advise using anti-malware software instead. Install it now to keep your operating system protected against all kinds of malware. Also, do not forget to back up your personal files to ensure that they are safe even if ransomware encrypts them.