Do you know what Cryptographic Locker is?
If you cannot access your files and documents with such extensions as .doc, .docx, .ppt, .xls, and others, there is a possibility that a ransomware infection called Cryptographic Locker has managed to slither onto your computer. This program seeks to scare computer users and convince them to pay money for the decryption of files. We do not recommend doing that because there are no guarantees that you will get the keys that will allow you to decrypt your files. If we have convinced you that there is no point in paying a required ransom, you should know that it is still advisable to delete Cryptographic Locker because it will autostart with Windows all the time and might even attract other serious infections onto your computer.
Cryptographic Locker will display a window stating that your files have been encrypted and you have to pay a particular sum of money in order to be able to access them. You will be asked to transfer the ransom in Bitcoints because the creators of Cryptographic Locker seek to stay anonymous. In addition, the program will hurry you to pay money; it states that the cost will rise if you do not make a payment until the stated time. Other infections, for instance, CryptoLocker also encrypt files and demand to pay a ransom; thus, if you want to check whether you have really encountered Cryptographic Locker, you should check the encrypted files; an extension ._clf should be added to all of them.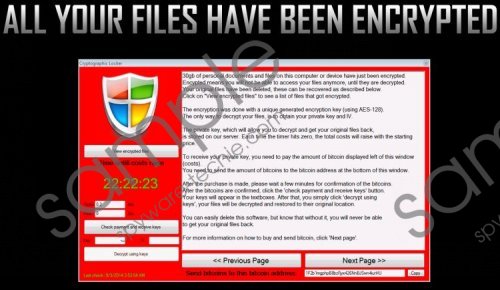 Cryptographic Locker screenshot
Scroll down for full removal instructions
The security experts of spyware-techie.com have tested Cryptographic Locker in their lab and revealed that this infection will block registry editor, Task Manager, and your security software in order not to allow you delete it very easily. The worst thing associated with Cryptographic Locker is the fact that it will install Backdoor.DarkKomet in order to perform other undesirable activities. On top of that, other serious infections might also enter your system with a help of Backdoor. Therefore, we highly suggest that you erase Cryptographic Locker with all of its components.
We have to upset you by saying that you will probably not be able to decrypt your files. However, it does not mean that you should not remove Cryptographic Locker from the system. It is very difficult to eliminate the threat manually because it blocks the major system tools. Thus, the easiest way to get rid of it is to install an antimalware tool, for instance, SpyHunter on the system and scan your PC with it. Follow the instructions provided below the article in order to be able to download it.
How to remove Cryptographic Locker
Windows 8
Tap the Windows key.
Move the cursor to the lower-right corner of the screen.
When the Charm bar opens, click Settings.
Select Change PC Settings and then click General.
Click Advanced Startup.
Select Start Now.
Access Troubleshoot and then select Advanced Options.
Click Startup Settings.
Click Restart and then tap F5 on your keyboard.
Open your browser and type in http://www.spyware-techie.com/removal
Download the tool, install it, and then scan your computer.
In non-techie terms:
The instructions how to eliminate Cryptographic Locker from the system are placed under the title "Virus Removal Instruction". However, they might not help you to delete this threat if you use Windows 8. Therefore, specific instructions for Windows 8 users have been provided as well. You will find them above.