Do you know what CryptoFortress Ransomware is?
CryptoFortress Ransomware is an infection that can affect Windows operating systems. The infection is executed without the permission of users, but it wouldn't be fair to state that users have no part in this. If you installed reliable security tool capable of protecting your PC against malware attacks and removing infections when necessary, you would not need to delete CryptoFortress Ransomware. The malicious ransomware could have been executed by a silently running Trojan, and this infection could download more infections on your PC without your notice. Therefore, after you remove the ransomware, you need to inspect your operating system to learn if you need to remove other infections.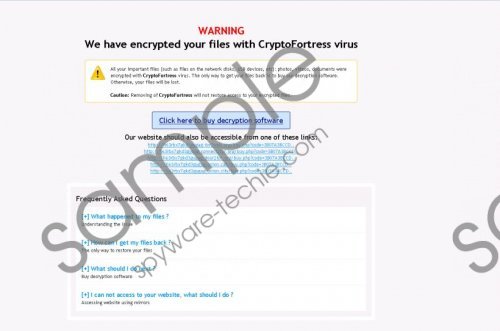 CryptoFortress Ransomware screenshot
Scroll down for full removal instructions
It appears that CryptoFortress Ransomware has not been fully developed, because it does not work the way it's supposed to. If everything was working according to plan, CryptoFortress Ransomware would encrypt personal files (e.g., .doc, .jpg, .mpeg, .txt, etc.) and introduce you to a warning message indicating that you need to download/purchase file decryption software. However, the ransomware does not work that way. The file carrying the warning message (READ IF YOU WANT YOUR FILES BACK.html) cannot be opened, because CryptoFortress Ransomware encrypts the files of browsers making them inaccessible. Our malware researchers have managed to open the message, and one of the statements indicate that users cannot restore files by removing CryptoFortress. This is not surprising to our researchers who have already encountered TorrentLocker, TeslaCrypt Ransomware, ZeroLocker, and other malicious ransomware threats that also require removal.
Are the files encrypted by CryptoFortress Ransomware important to you? If they are not, there is no reason to dwell on the situation. Go ahead and remove the malicious threat from your operating system. If the files are important and you do not have copies of them, you have to make a decision. Whether you decide to restore files or remove them, we do not recommend following the instructions of CryptoFortress Ransomware. You might be able to find free, reliable file decryption tools that will help you restore personal files. The instructions below show how to remove CryptoFortress Ransomware.
Remove CryptoFortress Ransomware
Remove from Windows 8 & Windows 8.1
Access the Metro UI start menu and click the Power Options button at the top of the screen.
Simultaneously press Shift (on keyboard) and click Restart to access the Troubleshoot menu.
Select Advanced options and click Windows Startup Settings (or Startup Settings).
Select F5 (press on your keyboard) to restart your PC in Safe Mode with Networking.
Launch http://www.spyware-techie.com/download-sph to download SpyHunter.
Install the program and use it to scan your operating system and delete computer threats.
Remove from Windows XP
Restart your computer and start tapping the F8 key as soon as BIOS screen loads.
Using arrow keys on your keyboard select Safe Mode with Networking and tap Enter.
Wait for the Windows is running in safe mode alert to show up and click YES.
Download an automatic malware remover from http://www.spyware-techie.com/spyhunter .
Install the program and use it to scan your operating system and delete computer threats.
N.B. You can find the removal guide for Windows Vista and Windows 7 systems below.
In non-techie terms:
The malicious CryptoFortress Ransomware can make your virtual experience miserable. This dangerous threat slithers in without permission, encrypts files, and then orders you to purchase some file decryption tool. Instead of paying attention to the demands of the ransomware, you should remove CryptoFortress. Note that if you delete the ransomware, you might lose your chance to decrypt files.