Do you know what CryptoFinancial Ransomware is?
CryptoFinancial Ransomware is a malicious application designed to enter your computer covertly and lock its screen. Needless to say, you have to remove it from your computer if you want to continue using it. Nevertheless, there is more to this infection than meets the eye. Its ransom note claims that it encrypts files and moves them to a hidden partition, and the only way you can get them back is to pay the ransom. We want to inform you that you do not have to pay to get them back because they are neither encrypted nor moved anywhere. This program's developers want to trick you into thinking that CryptoFinancial Ransomware is more malicious than it is, so read this article is your PC has become infected with it.
Our security specialists assume that this ransomware in being distributed using email spam disguised as invoices and receipts from legitimate companies. Without a doubt, that is an efficient distribution tactic because you might open these kinds of emails without releasing that they might be fake and contain malware. As far as the dropper file is concerned, our security specialists say that the fake email contains a Microsoft Word document that asks you to enable macros to see the text correctly. Note that by enabling macros you also enable a security vulnerability that is used to the advantage of the malware developers to get your PC infected with CryptoFinancial Ransomware. This is a high-tech method for infecting your PC and since this ransomware is not so high-tech as it appears to be our malware analysts say that the dropper file might also be a file archive that drops the malicious files once you open it.
This ransomware's developers want to give you the impression that the only way you can get your files back is to pay the ransom of 0.2 BTC, which is approximate $130 USD. The ransom note that doubles as the lock screen states makes elaborate claims that your files have been encrypted and moved to a hidden partition and that essential programs have been locked. Basically, it says that you cannot use your PC. The lock screen contains the address to which you should send the Bitcoins and even a section where you can enter your email address and comment. It seems that you need to contact the malware developers to receive further instructions on how to pay the ransom.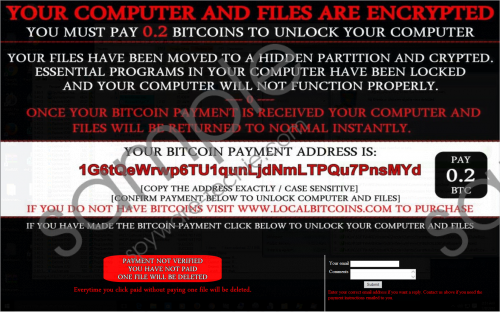 CryptoFinancial Ransomware screenshot
Scroll down for full removal instructions
Nevertheless, you can avoid that by terminating the lock screen and deleting CryptoFinancial Ransomware's files. The truth is that this ransomware does not encrypt or move the files so you can get away with removing its files without having to suffer the consequences that arise when eradicating most ransomware. You can terminate CryptoFinancial Ransomware's lock screen by holding down Alt+Tab keys, simple procedure that will grant you full control of your PC. However the lock screen will return the second time you boot up your computer, so you have to get rid of its files. Our security analysts have discovered that this ransomware consists of three files.
Its main executable is named winstrsp.exe and is dropped in %APPDATA%\Roaming. The other file is called winopen.exewinopen.exe (that is the correct name) dropped in %TEMP%. The last file is a task file that is set to run the infection when your system boots up. This file is called WVGtpmEUlXdWVGtpmEUlXdhuSpCpqZGMuTRLhuSpCpqZGMuTRL and it is supposed to be dropped in %WINDIR%\System32\Tasks\Update but it might not create an Update folder, so the file path might also be %WINDIR%\System32\Tasks. Now that you know how this ransomware functions, it does not look as dangerous as you may have been made to believe. Its developers use lies and deceit to trick you into paying them money, and you should deny them this satisfaction.
In conclusion, CryptoFinancial Ransomware is unlike anything we have seen in a long while. It is indeed a ransomware-type infection because it locks your computer's screen rendering it useless until the lock is removed. However, its encryption capabilities are non-existent, so you can take action against it without fear of losing your files for good.
How to delete this ransowmare's files
Hold down Alt+Tab keys to terminate the lock screen.
Hold down Windows+E keys.
Type %APPDATA%\Roaming in the address box and hit Enter.
Find winstrsp.exe and delete it.
Then, type %TEMP% in the box and hit Enter.
Find winopen.exewinopen.exe and delete it.
Type %WINDIR%\System32\Tasks\Update or %WINDIR%\System32\Tasks and hit Enter.
Find WVGtpmEUlXdWVGtpmEUlXdhuSpCpqZGMuTRLhuSpCpqZGMuTRL and delete it.
In non-techie terms:
CryptoFinancial Ransomware is designed to lock your computer's screen and claim that it has encrypted your personal files and moved them to a hidden partition. However, this ransomware can do is lock the screen and demand that you pay a ransom, but you can bypass the lock and delete it.