Do you know what Cryptobot Ransomware is?
Cryptobot Ransomware is a ransomware infection that is directly related to CryptoLocker program. As you might know, CryptoLocker is a ransomware Trojan that affects computers that run on Windows operating system. Cryptobot Ransomware is not as dangerous as CryptoLocker, but it is still highly annoying and frustrating application because it can encrypt your files, and that is virtually the end of it. You can easily remove Cryptobot Ransomware from your computer, but it is not possible decrypt all the affected files. Hence, it is necessary to have a backup or a system restore point.
The most frustrating thing about this infection is that users download Cryptobot Ransomware onto their computers accidentally. This infection gets distributed through spam email messages. When users download an email attachment from an unknown sender and run it, they install Cryptobot Ransomware. This only shows that you should never open automated messages unless you know who the sender is. Don't download attachments and click outgoing links on emails that ask you to do something, and if it looks like an official notification from your bank, please check it with your bank to check if you have been assaulted with spam messages.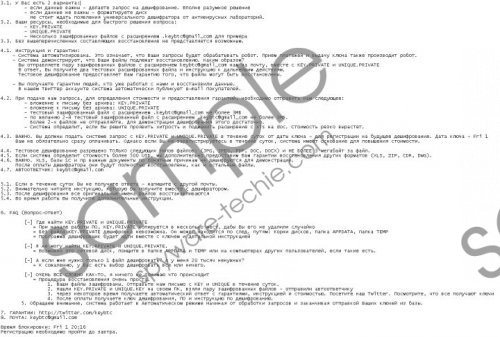 Cryptobot Ransomware screenshot
Scroll down for full removal instructions
When you run the installer file for Cryptobot Ransomware, you automatically initiate the file encryption. Your files get encrypted by the RSA-1024 algorithm. The ransomware infection also creates several files in the C disk under the names of KEY.PRIVATE, UNCRYPT.txt and UNIQUE.PRIVATE. What is more, you also get displayed a notification in Russian which says that your documents, photos and other important data has been encrypted, and you have to pay $500 within 24 hours if you want to decrypt your files. You are given an email address (keybtc@gmail.com) where you can refer to for any questions. On top of that, Cryptobot Ransomware even has an official Twitter account at twitter.com/keybtc, and if we check its tweets, almost all of them say that "Client [email address] has received the key."
These messages give an impression that you can really decrypt your files if you pay the money to Cryptobot Ransomware, but our research team warns that there is no guarantee that ransomware will give you your files back. It would be for the best to remove Cryptobot Ransomware immediately. Since this infection does not lock you out of your system, you can easily terminate it in Normal mode.
Invest in a reliable antispyware tool and delete Cryptobot Ransomware automatically. This way you will be able to locate and terminate all the malicious files. Do not forget to create a system restore point and backup your files in an external hard drive or on a cloud drive. If you need at any computer security tips, please leave us a comment.
How to terminate Cryptobot Ransomware
Open your browser and go to http://www.spyware-techie.com/download-sph.
Download SpyHunter and run a full system scan.
Click Fix threats to remove Cryptobot Ransomware.
In non-techie terms:
Cryptobot Ransomware is a dangerous infection that will decrypt your important files and will ask for a ransom fee. You need to keep your money to yourself and get rid of Cryptobot Ransomware immediately. Please invest in a licensed antispyware tool to protect your computer from harm.