Do you know what Crypto-Blocker Ransomware is?
According to our malware analysts, Crypto-Blocker Ransomware is a typical ransomware-type computer infection that was set to encrypt your personal files and then offer you to pay a ransom for a decryption key that costs 10 dollars, Euros, or pounds. However, you can get away with not paying a dime as there is a free decryption tool that already exists for this particular ransomware. Still, you should be careful and remove this program once you have decrypted your files. To find out more about this particular program, we suggest you read this entire article.
If your computer becomes infected with Crypto-Blocker Ransomware, then it will start encrypting your personal files. Our malware analysts say that this ransomware was configured to encrypt many of your files using the AES encryption algorithm. It does not encrypt all of your files, however. But it does encrypt documents, pictures, videos, and audio files. Basically, it targets file formats that are most likely to contain personal information. It appends the encrypted files with a ".corrupted."
Once the encryption process is complete, this ransomware was designed to render a window that contains a ransom note. The note states the obvious — that your files have been encrypted. It wants you to pay 10 of whatever currency you prefer within five hours or your PC will start getting errors. However, the problem is that this ransomware does not provide you with the means or instructions on how to pay the ransom. Furthermore, there is no email address or other contact information to get in touch with the developers of this program and negotiate. All you get is a dialog window for entering the decryption code. It appears that this particular ransomware is only half finished, so it does not have some necessary features.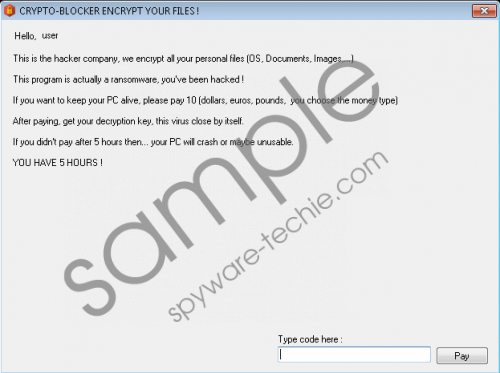 Crypto-Blocker Ransomware screenshot
Scroll down for full removal instructions
While there is no concrete information on how Crypto-Blocker Ransomware is distributed or how many versions it has, we believe that it is still in development and newer more advanced versions are due to come out at some point. As far as Crypto-Blocker Ransomware's distribution methods are concerned, we have received unconfirmed reports that its developers have set up a dedicated email server that sends span mail to a preset list of email addresses. According to, to our researchers, the emails should feature this ransomware's payload file named Crypto-Blocker.exe. This file might be zipped, but testing has shown that it is most likely extracted to %APPDATA%\Temp so that is where you should look first to delete this application.
Our malware analysts say that the emails that distribute this ransomware are most likely disguised as something else to convince you to open the malicious executable. Typically, ransomware emails are disguised as invoices and receipts from legitimate, well-known companies from around the word. FedEx is a favorite as many people in the US use it. The texts of the emails are designed to point you to the attached file that is probably zipped and goes by a different name than the executable inside. Also, Crypto-Blocker.exe might go by a different name to avoid suspicion. That is all of the information regarding the distribution methods of this malware.
While Crypto-Blocker Ransomware can cause you some inconvenience by encrypting your files you can decrypt your files using a free decryptor available online. The developers of this ransomware did not build in the means to pay the ransom leaving the victim helpless — not a great business model. Thankfully, this ransomware is primitive enough to be neutralized, and your files can be decrypted. So we suggest that you remove this malware using the guide below that includes using SpyHunter's free scanner to locate the exact location of the malicious file.
How to delete Crypto-Blocker Ransomware
Go to http://www.spyware-techie.com/download-sph
Download SpyHunter-Installer.exe
Install the program and run it.
Click Scan Computer Now!
Copy the file path of the malware from the scan results.
Press Windows+E keys.
Type the file path of the malware in File Explorer's address box.
Press Enter.
Locate and right-click the malicious files and click Delete.
Empty the Recycle Bin.
In non-techie terms:
Crypto-Blocker Ransomware is a highly malicious computer infection that is set to encrypt your personal files and demand money from you for a decryption key. However, you cannot make the payment because this ransomware has not been fully developed yet. The good news is that you can decrypt your files using a free decryption tool from the Internet and, therefore, we recommend that you remove this ransomware.