Do you know what CryptFile2 Ransomware is?
An application that goes by the name of CryptFile2 Ransomware is a malware that must be avoided at all costs. This is critical since ransomware applications are infamous for their invasive and malicious functionality. If your PC gets infected with this devious program, your personal files will be locked by it without any authorization or notification. It goes without saying that this will have devastating outcomes; what is even worse is the fact that in some cases your files could even be corrupted by this malicious program. It is also important to highlight that in some instances this malware could prove to be a major virtual security breach. In our report, we provide detailed information about the intrusive functionality of CryptFile2 Ransomware along with its comprehensive removal guide that must be used without second thoughts if this malicious application is ever found on your personal computer.
As soon as CryptFile2 Ransomware enters your operating system, it embeds its malicious files and registry entries within your operating system. Usually, it embeds it executable file within the %APPDATA% folder, which is triggered by an a new point of execution registry value implemented by this malware as well. Once this chain of action is done, the encryption will start. It is crucial to note that the encryption is a totally silent, meaning that users, without advanced computer knowledge, will not be able to identify that this ransomware is running on their PC. Your data is locked by using a notorious RSA algorithm, which makes manual decryption is a virtually impossible task. As soon as your data is locked, you will be presented with a ransomware note on your desktop. The file entitled HELP_DECRYPT_YOUR_FILES.TXT will inform you about what has happened as well as it will ask you for a ransom for a decryption procedure. We highly advise you to avoid doing so as it is most likely nothing more than a hoax as there is no legal agreement that oblige cyber crooks that developed this malware to unlock your data even if you pay. This is why we advise you to use decryption tools, crafted by IT professional available for free online. Trying to unlock your files in such a manner is a safe way, to say the least. To limit the data loss induced by CryptFile2 Ransomware, you must execute its complete removal as soon as it is found running on your PC.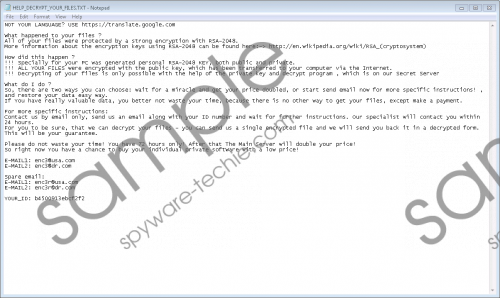 CryptFile2 Ransomware screenshot
Scroll down for full removal instructions
It is important to note that CryptFile2 Ransomware in some instances could prove to a gateway for other potentially malicious programs. This could happen since the malware in question is known to initiate connections to suspicious third-party servers; during such connectivity, a silent download of a potentially dangerous program could take place. This is why it is important to check your PC for other invasive programs if you have the ransomware in question. To avoid harmful software you must take preventative steps. First and foremost, make sure to install a professional antimalware tool if you do not have one already. Running such a tool is crucial because it proves overall system security at all times. Additionally, it is critical to browse the web with caution because in quite a few instances this ransomware is known to be distributed via spam e-mail attachments; thus it is important not to obtain any attachments that are sent by unidentifiable senders. Also, we recommend avoiding all suspicious third-party sites as malware developers are known to craft devious sites that host their malicious software. These steps are imperative if you wish to keep your PC safe and secure at all times.
The complete removal of CryptFile2 Ransomware must be executed without any delay. The instructions presented below must be executed with extra care since a single mistake could result in an incomplete removal. This could have unwanted outcomes because the malicious program could be restored without your knowledge by just a few suspicious leftover files or registry entries. To avoid this, make sure to perform an extensive analysis of your personal computer for potential traces of CryptFile2 Ransomware. Such analysis must be executed as soon as you are done with the manual removal.
How to remove CryptFile2 Ransomware from your PC
Open your File Explorer.
Go to C:\Users\[your username]\AppData\Roaming.
Select a malicious .exe file and the tap Delete on your keyboard.
Now click the Windows button.
Type regedit into the search box and select it.
Go to HKEY_CURRENT_USER\Software\Microsoft\Windows\CurrentVersion\Run.
Select a registry a value called SecurityFlashPlayersHardWare and remove it.
Now go to HKEY_CURRENT_USER\Software\Microsoft\Windows\CurrentVersion\RunOnce.
Right-click a registry value called *SecurityFlashPlayers32 and select Delete.
Now select a file called HELP_DECRYPT_YOUR_FILES.TXT located on your desktop and remove it.
In non-techie terms:
A complete removal of CryptFile2 Ransomware is crucial. If you happen to find manual removal and analysis of your PC a bit too complicated do not worry. Malware researchers at Spyware-Teche.com have crafted an alternative removal guide that we provide below. By following the instructions presented below you will be able to remove CryptFile2 Ransomware in an automatic manner.