Do you know what Cryptconsole Ransomware is?
Strangely, Cryptconsole Ransomware enciphers only the file name instead of encrypting the file itself. The most annoying part is that by doing so the malicious application changes both the file name and its extension, so while the data remains in its original directory, it might be difficult to identify it. However, if you remember the original title or more importantly the file's correct extension, you could try to rename it manually, and the file should become usable again. Also, our researchers inform us that volunteer IT specialists might have developed a decryption tool which could automatically rename user's data, so if you have a lot of data on the computer, it might be worth to look for this device. In the meaning time, we would advise you to eliminate Cryptconsole Ransomware according to the steps provided in the removal guide or with reputable antimalware software.
Currently, it is still difficult to say how this malware is being distributed, although there are a couple of possible scenarios. If you did not know this already, lots of similar threats are often spread with malicious email attachments, but since some of Cryptconsole Ransomware victims do not recall downloading anything suspicious before the malicious application appeared, the infection's creators are probably using a different method. For example, the malware's authors could drop the ransomware's launcher after gaining access to the user's computer. They could try to guess your PC's password during the so-called brute-force attacks. Therefore, we would advise users to pick a stronger password just in case. Another smart idea would be to install a reliable antimalware tool that could guard the system against such threats.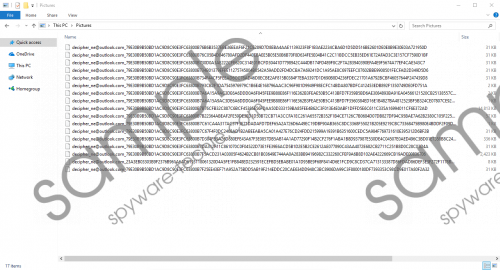 Cryptconsole Ransomware screenshot
Scroll down for full removal instructions
As the research shows, Cryptconsole Ransomware's launcher might be called sv.exe, although the title may vary. Once this file is launched the infection should begin the encryption process. During it, all names of the data on the computer (expect titles of files related to the Windows operating system) should be encrypted with the AES encryption algorithm. The newly generated names should consist of a particular email address and two keys from random characters, for example, an enciphered tree.jpg could look like decipher_ne@outlook.com_79E30B9B50BD1AC9D8C90E3FC63800B76C05B4D046780AFD2DF440EEAEE5B05E50B6B70F8D634FE5E04B41C2C11BDCC5EB35ED61E72AFAD3C3E157CF7590D1BF.
The sample tested by our specialists did not drop any ransom note, but there is a possibility such a file might be placed. In such case, the threat's creators may demand you to pay a ransom in exchange of a decryption tool. Since you can recover files by restoring their names and extensions manually, we advise you not to waste your savings on a device which might not even exist. In other words, if you see a message with such demands simply ignore it and try to rename enciphered titles on your own or search for a free decryption tool on the Internet.
Cryptconsole Ransomware might leave its malicious data on the computer even after the encryption process is over. This is why it is advisable to check the system and delete the malware if it remains there. Users could try to get rid of the infection manually by following the provided removal guide, but it might be easier to complete this task with a reputable antimalware tool. This way you would not have to find and identify malicious data on your own, as the software would do so automatically. Plus, the tool should allow you to erase all detections at the same time with a single mouse click.
Remove Cryptconsole Ransomware
Press Ctrl+Alt+Delete.
Open the Task Manager.
Look for a suspicious process that could belong to the infection.
Select it and press End Task.
Find the malicious application's launcher, e.g. sv.exe; it could be in the Downloads, Desktop, or other folders.
Right-click the file and select Delete.
Erase the ransom note if it was dropped.
Empty the Recycle bin.
Reboot the computer.
In non-techie terms:
Cryptconsole Ransomware is a malicious program that encrypts only the files' titles and extensions. In other words, the file itself remains undamaged; thus, if you rename it and place a proper extension, the file could be opened and used normally once again. Consequently, we would advise users to ignore any demands or threats from the malware's creators provided they try to contact you. Even if you put up with their demands the malicious application's developers may still not send you the decryption tool, so it would be wise to try to rename the files manually. Also, you can find a free decryption tool from the volunteer IT specialists on the Internet, so there is definitely no need to risk your savings. If you agree with us, we urge you to eliminate the malware with the removal guide placed above or with a reliable antimalware tool of your choice.