Do you know what Crypt0 Ransomware is?
Crypt0 Ransomware is a brand new threat that has just emerged. This malware infection targets your executable files, which means that in this attack you can lose the access to all of your programs as they get encrypted with a serious algorithm. Normally, this could mean the loss of your files because the only way offered by the criminals behind such threats is to pay them a certain amount of ransom fee in exchange for the private key and the decryption software. Obviously, this ransomware also offers you this option; however, according to our researchers, you can find and download a working decryptor that can actually restore your files. As you can see, this could have gone way worse but you may be lucky this time. Nevertheless, if you do not remove Crypt0 Ransomware right away from your computer, you may cause more problems as this annoying infection goes on encrypting your .exe files with every restart of your system.
Whenever it comes to ransomware programs, the most important thing for you to know is how they are spread. Just like most of its peers, this infection is also distributed via spam e-mail campaigns. This seems to be one of the most efficient methods apart from the use of Exploit Kits. Spam e-mails have evolved and the more sophisticated ones may always be one step ahead of spam filters. This is why you need to be extra careful with the mails you find in your inbox. Do not have a misbelief that they are all filtered and safe to open because this could easily lead to dangerous infections landing on your system. Crypt0 Ransomware enters your system through an attached malicious file that could look like an image or a document of some sort. Criminals often use fake invoices, bookings, and wrong credit card details to convince you that this attachment is important for you to check out. But instead of facing, for instance a real unsettled invoice, you simply activate the download and operation of this malware threat. The whole encryption process will not take longer than the time you spend to skim through this made-up document and realize that there must be a mistake. If you recall downloading such documents but you are lucky enough not to have opened them, you should remove Crypt0 Ransomware right away or any other potentially harmful program you may find. Of course, this is exactly what you should also do even if this infection has hit you hard and seemingly you have lost all your program files.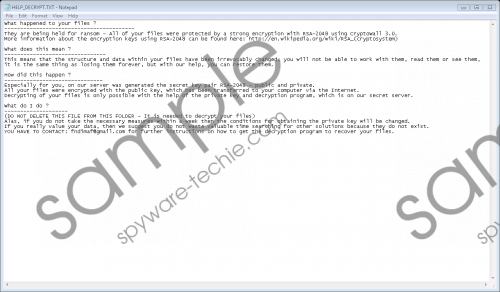 Crypt0 Ransomware screenshot
Scroll down for full removal instructions
When this ransomware program is activated, it attacks all your .exe files except for those signed by Microsoft, including Internet Explorer and, interestingly enough, Mozilla Firefox as well. This means that this threat does not touch your system programs, i.e., your "%WINDIR%" directory. All your executable files are encrypted with the RSA-2048 encryption algorithm and the private key necessary for decoding your files is hidden along with the decryption software on a secret server only accessible by the authors of this threat. Your file names change after the encryption and "_crypt0"gets inserted like in "mydocument_crypt0.docx."
Another event that takes place when you run the downloaded attachment is that this infection drops its executable file, "crypt0-Encrypt.exe," into your Startup folder to make sure that anytime you reboot your system, Crypt0 Ransomware starts up automatically and encrypts all .exe files. This is one of the main reasons why you need to act and delete Crypt0 Ransomware as soon as possible. Our research shows that this infection does not replace your desktop background with a ransom note image or any other active window. It does not block any of your system processes either. Instead, this infection drops a text file, "HELP_DECRYPT.TXT," in every folder where your files have been encrypted. You need to find and open this .txt file for yourself if you want to know what has happened and what your options are claimed by these criminals.
In this note you are informed about this attack and what RSA-2048 is as well as how you can get hold of the essential private key and the decryption program. You are to send an e-mail to "fndimaf@gmail.com" for further details. You are supposed to get a reply message containing information about the amount of the ransom fee and most likely the Bitcoin address where you have to transfer this money. Luckily, you do not have to bother about any of this because it would be totally unnecessary to pay these crooks since it is possible to find a reliable tool on the web that can restore your files. However, if you are an inexperienced user, we do not advise you to search for this tool and install it. As a matter of fact, such a hunt may end badly if you end up on malicious websites pretending to host this tool but instead you would download another malware infection. Therefore, it is best to find a friend who has advanced IT knowledge or take your PC to a professional. In any case, before you make any further steps towards recovering your machine, you need to remove Crypt0 Ransomware.
The best thing about this threat apart from the free decryption tool is definitely the ease of its removal. All you need to do is eliminate some files. If you do not want to leave any leftovers on your system, please use our guide below as a reference. It is quite likely that you do not want to shock yourself with a similar threat in the future; therefore, we suggest that you find a decent anti-malware program and install it to safeguard your computer from all existing malware infections. Should you need any assistance with the removal of Crypt0 Ransomware, please send us a comment below.
Crypt0 Ransomware Removal from Windows
Tap Win+E.
Locate and bin the file you saved from the spam e-mail.
Bin the ransom note file named "HELP_DECRYPT.TXT" from all infected folders.
Delete the malicious .exe file named "crypt0-Encrypt.exe" from this location:
Windows XP users: "%ALLUSERSPROFILE%\Start Menu\Programs\Startup"
All newer versions: "%APPDATA%\Microsoft\Windows\Start Menu\Programs\Startup"
Empty the Recycle Bin and reboot your PC.
In non-techie terms:
Crypt0 Ransomware could be a dangerous threat that encrypts all your executable program files except for Microsoft-related ones, but, in reality, this happens to be one of those few ransomware programs that can be cracked. This means that you can find a proper working application on the net that can recover your encrypted files so you do not have to pay these crooks in order to have your private key and their tool. This is definitely good news but it does not mean you do not need to take actions if you want to protect your computer. We advise you to remove Crypt0 Ransomware right now as a first step towards the restoration of your files and the security of your virtual world. If safety is your concern, you may want to consider installing a trustworthy anti-malware application.