Do you know what Crypt0 HT Ransomware is?
Crypt0 HT Ransomware is not an entirely new malicious application, but more like a re-made version of a well-known open source ransomware called Hidden Tear. Its creators seek to gain 450 US dollars from all of their victims as the malware drops a ransom note asking to transfer the mentioned sum in Bitcoins. Apparently, in exchange, the user is supposed to receive tools that should help him decrypt the files, which got enciphered after the computer got infected. As you see the malicious application encrypts all personal and other useful data located on the victim's computer to take it as a hostage. The important thing to know is there are no reassurances the hackers will hold to their end of the bargain. In other words, they may not help you unlock your files even though they promise to do so. If this happens, you will lose not just your data, but also the transferred money. Under such circumstances, we advise erasing Crypt0 HT Ransomware instead and to assist you in this matter we have prepared a removal guide you can find a bit below the main text.
The rest of the text will provide more details related to the malicious application's distribution, its working manner, and its removal. First of all, we would like to begin with the ways Crypt0 HT Ransomware might reach its victims. Our computer security specialists report they learned the malware's launcher could be disguised as a PDF document, which might make it look harmless for some users. Such a file could be sent via Spam emails. The fact it is categorized as Spam, and it was sent by someone you are not familiar with should signal it might be dangerous. In which case the smartest choice would be to leave the mysterious attachment be or at the very least scan it with a legitimate antimalware tool that could detect harmful components and warn you about them.
Provided the user is not so careful and accidentally opens Crypt0 HT Ransomware's launcher the system might become infected at once and the threat may immediately start the encryption process. During it, the infection is supposed to encipher files located in all directories except the %PROGRAMFILES%, %PROGRAMFILES(x86)%, %WINDIR% directories and their subfolders. Also, we learned that the malicious application can encipher a variety of different file types, for example, it could encrypt files with .txt, .doc, .docx, .xls, .xlsx, .ppt, .pptx, .odt, jpeg, .png, .csv, .sql, .mdb, .sln, .php, .asp, .aspx, .html, .xml, .psd, .sql, .mp4, .7z, .rar, .m4a, .wma, .avi, .wmv, .csv, .d3dbsp, .zip, and many other extensions.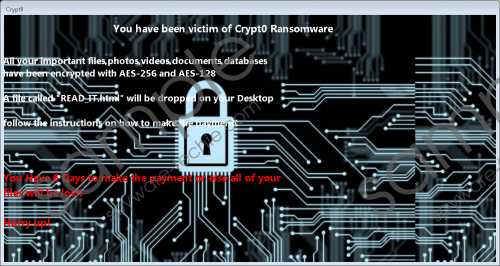 Crypt0 HT Ransomware screenshot
Scroll down for full removal instructions
Afterward, it should open a window instructing to find and read a file titled READ_IT.html. Apparently, it should be dropped on the victim's Desktop, although during our tests the malicious application was unable to do so. Nevertheless, we know that inside of this message the cyber criminals behind Crypt0 HT Ransomware may ask you to pay a sum of 450 US dollars. As said earlier, doing this could be extremely risky, and if you do not want to risk losing your savings, we encourage you to ignore the ransom note and delete the malware instead. The removal guide available below will show how to achieve this manually, but if you are an inexperienced user, it might be wiser to leave this task to a reputable antimalware tool.
Erase Crypt0 HT Ransomware
Click Ctrl+Alt+Delete.
Choose Task Manager.
Identify a suspicious process associated with this malicious application.
Select this process and press the End Task button.
Leave Task Manager.
Tap Windows Key+E.
Navigate to Desktop, Temporary Files, and Downloads folders.
Search for a malicious file that got the system infected.
Right-click the threat's launcher and press Delete.
Navigate to Desktop again.
Remove the file called READ_IT.html.
Close the File Explorer.
Empty the Recycle bin.
Restart the system.
In non-techie terms:
Crypt0 HT Ransomware appearance on the computer might mean you may no longer open your important documents, precious pictures, or other valuable data since the malicious application enciphers a considerable amount of different file types and our computer security specialists report it skips only a few directories. After the encryption process is over the victim should receive a ransom note demanding to pay a sum of 450 US dollars as fast as possible. However, we would not advise you to put up with such demands because even if you pay the ransom, the malware's creators might still not help you decrypt your data despite their promises. A safer option would be to get rid of the infection and replace encrypted files with their copies from removable media devices, try to restore them with various recovery tools, and so on. If you decide to eliminate it, we encourage you to use our removal guide placed a bit above this text if you feel up to such a task or employ a reputable antimalware tool that could delete the threat for you.