Do you know what CrypMIC Ransomware is?
CrypMIC Ransomware can hit you hard if you do not make regular backup copies onto a removable drive. This ransomware seems to be a newly emerging family of malware that appears to copy a former success called CryptXXX. It is possible that you download this threat from a spam e-mail, but it is more likely that you land on a malicious website or click on unsafe third-party ads to drop the executable. This malware infection can encrypt most of your files, which can be a major devastation to you. Mostly, because the only way for you to restore your files is to get the private key and the decryption tool from these criminals and reports suggest that it simply does not work out well. What we suggest is that once you notice this infection, you act right away. You should remove CrypMIC Ransomware because otherwise your system will not be safe again.
There are a couple of ways for you to infect your computer with this ransomware. It is possible that you open a spam e-mail that looks like an urgent message about an unpaid invoice or a wrongly made reservation of some kind, and you find an attached file that you suppose is the invoice or a "must-see" document. However, instead, it could be an executable file, which could have any name like "Transactions_Report__by_users_from_2016-07-13_to_2016-07-20.exe." Downloading this file and trying to open it will lead to initiating this horrible attack. Therefore, you need to make sure that you only open mails that you are confident were meant to you.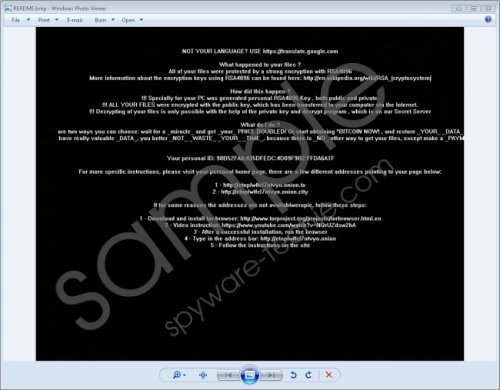 CrypMIC Ransomware screenshot
Scroll down for full removal instructions
This ransomware is known to be distributed by the notorious Neutrino Exploit Kit. Therefore, a more likely way for you to install this infection is to end up on a malicious website and try to view some blocked content, such as a Flash video. If your browsers and drivers (Flash Player and Java) are not up-to-date, you could be offered to download the "right" software update. However, instead of a legitimate one, you may actually install a malicious updater that in fact activates CrypMIC Ransomware. This can also happen if you click on unreliable third-party ads. These commercials may come from aware programs hiding on your computer or generated by suspicious pornographic, torrent, and freeware sites. Remember that it may take only one click for you to end up in the middle of such a nightmare. You should avoid clicking on any third-party content unless you are perfectly sure that your system is free of malware infections. The best way for you to know this is to protect your PC with an authentic malware removal application that could detect and delete CrypMIC Ransomware and all other potential threats as well.
This ransomware claims to use the RSA-4096 algorithm for the encryption of your files but our researchers say that it actually applies AES-256. This infection can do a lot of damage as it does not only target your built-in drives, but also, your mapped network drives as well as any removable drives that are connected to your computer at the time of the attack. This is why it is important to only connect your external hard disks when in use and otherwise disconnect them for perfect safety. Imagine keeping your backups on a removable disk and having it connected while this beast is running amok on your computer; you could lose all your backups as well in this attack.
When this malware has done its job, it replaces your background with README.bmp. It is quite hard to know which files have been encrypted because this infection does not modify the file names by adding a new extension, such as ".locked" and ".crypt." Of course, you can find out by trying to run them one by one. Another sign is that this ransomware drops three files, namely README.bmp, README.html, and README.txt, in each folder where the files have been encrypted. Obviously though, the ransom note that comes up on your screen should make it quite clear, too. This note tells you that if you want to see your files again, you have to follow the instructions and pay the ransom as told on the provided personal home pages. You are also given a personal ID, which you are supposed to use on these home pages, but, unfortunately, multiple reports indicate that this does not seem to work. And neither does the decryption tool. So even if you are the "lucky" one who gets any reply from these crooks after you transfer the 1.2 to 2.4 BTC (711 to 1422 US dollars at current rate), you will not be able to restore your files. Of course, there could be other problems as well, such as technical errors when these criminals shut down the Command and Control server that hosts your private key. This is why we advise you to delete CrypMIC Ransomware ASAP.
It is not too complicated to eliminate this threat. You need to locate certain files and bin them; that is all there is to it. So if you are ready to remove CrypMIC Ransomware manually, please follow our guide below this article. But keep in mind that this will not give your files back. You might try to find a working free tool on the web but we advise you to ask an advanced user or an IT professional to help you with this. If you prefer an automated method that could more effectively detect all possible threats and clean them from your computer, we recommend that you install a decent malware remover, such as SpyHunter. But even if you decide to invest in your virtual security, you should always keep all your programs and drivers updated for best results and best protection.
CrypMIC Ransomware Removal from Windows
Tap Win+E to open File Explorer.
Delete the downloaded malicious .exe or .dll file.
Delete the 3 "README.*" files in "%APPDATA%\Microsoft\Windows\Start Menu\Programs\Startup" directory.
Bin all occurrences of the 3 "README.*" files.
Empty your Recycle Bin and reboot your computer.
In non-techie terms:
CrypMIC Ransomware is a dangerous malware attack that can encrypt as many as 900 file types and take them hostage until you pay the relatively high ransom fee. This major threat can spread through malicious advertising and malicious websites as well using the well-known Neutrino Exploit Kit. This infection uses the AES-256 algorithm. When it has finished the encryption of your files, it displays the ransom note. You are supposed to visit a home page especially set up for you in order to get further details. We do not suggest that you pay these criminals because you may not get the private key and decryption tool even if you transfer the money. We recommend that you remove CrypMIC Ransomware the moment you find it on your computer. If you want to feel safe in your virtual world, we suggest that you install a reliable anti-malware program.