Do you know what Crying Ransomware is?
Ransomware programs are extremely popular nowadays. That is so because they allow cyber crooks to make huge illegal profits from naive Internet users. One such program goes by the name of Crying Ransomware. If you are not familiar with the functionality of applications classified as ransomware, you should know that they are fully capable of locking large chunks of data on the affected operating system. This could have devastating especially if you use your personal computer primarily for work. Usually, developers of such applications demand huge ransoms in return for decryption services. To have a better understanding what the ransomware in question does, make sure to read the rest of our report. Since most users infect their computer with malicious programs, we present simple yet effective precautionary steps to improve your overall virtual security. Alongside all of that, you will also find a comprehensive removal guide that will help you delete Crying Ransomware in just a few simple steps.
In its basic functionality of Crying Ransomware can be considered a conventional ransomware program. That is so because it exhibits the same pattern of functionality as so many other programs of this classification do. In fact due to this pattern malware experts have noticed that this malware is closely related to other devious applications such as CryptoKill Ransomware, Kee Ransomware, Kripto64 Ransomware. Upon further investigation, our research team has discovered that all of the mentioned programs including the one in question are crafted on the basis of a Hidden-Tear project, which is infamous for being exploited by malware developers. The project in question happens to be so popular among cyber crooks because it allows them to develop new ransomware programs easily and quickly. Thus, Crying Ransomware exhibits virtually the same functionality as its counterparts. It scans the hard drive for its contents. Right after that, it starts the encryption procedure, which uses a powerful cipher to lock your data. Once your data is locked, you will notice a ransom note. The note informs you that your data has been encrypted and that you need to obtain another suspicious program for further instructions on how to regain your files. Under no circumstances abide by the demands of cyber crooks as they will likely try to lure money from you. It should be more that obvious why our research team urges you to delete Crying Ransomware as soon as it is found up and running on your PC. Remove this malware without encountering any major problems by following the instructions below.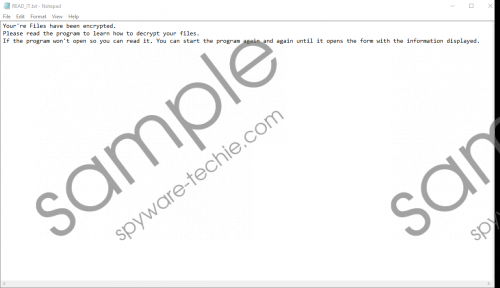 Crying Ransomware screenshot
Scroll down for full removal instructions
If you consider yourself to be a security-conscious user, you must take action to improve your overall virtual security. This way you will be able to keep your PC safe and secure from programs such as Crying Ransomware. First and foremost, we urge every user to obtain and install a professional antimalware tool if they do not have one already. This is critical because such a tool is the most important part of your overall virtual security since it can identify and terminate any virtual threat automatically. In addition such a tool, you also need to practice safe browsing habits. This means that you must avoid all suspicious third-party download websites because they are notorious for hosting setup files filled with questionable and otherwise suspicious programs. Also, you should avoid all e-mail attachments sent by unknown sources since malware developers often use spam e-mail campaigns to distribute their suspicious software. Finally, we urge you to always learn as much as possible about any program that you are about to download and install. This is important because cyber criminals infamously use misleading marketing technique to lure unsuspecting Internet users into acquiring their programs without knowing what they actually do. While these precautionary steps might seem simple, you must know that employing them will have a significant effect on your overall virtual security.
The removal of Crying Ransomware must be your utmost priority if this application is already active on your personal computer. By following the instructions that we present below, you will be able to delete every single bit linked to this malware. This is important since its leftovers could act aggressively. For example, its traces could trigger its silent restoration procedure. If you want to be sure that everything associated with Crying Ransomware has been terminated from your PC, make sure to execute an in-depth analysis of your PC for anything associated with it as soon as you are done with the detailed instructions that we provide below.
How to remove Crying Ransomware from your computer
Open the File Explorer.
Navigate to C:\Users\[your username\Downloads.
Right-click a malicious .exe file and then select Delete. Note that the name of this file is random.
Right-click your Recycle Bin and then select Empty Recycle Bin.
In non-techie terms:
If you are a user that finds manual removal too complicated, do not worry. Malware experts at our internal labs have crafted an alternative removal guide. Follow the instructions below and you will be able to delete Crying Ransomware automatically.