Do you know what CrushClans is?
CrushClans is classified as an adware program, so it means that this application indulges in advertising. Perhaps it may have some other "official" function, but you can be sure that the main reason it gets added to your browser is money. Naturally, this application is not an immediate computer security threat, so there is no need to panic. You can delete it via browser settings menu, and you should also check the list of extensions, to see whether you have more unfamiliar plug-ins added. If so, you will do yourself a favor if you delete them all at once.
This application functions as a Chrome extension, and it is compatible only with this one browser. It also has an official homepage, and it is possible to download the extension from the Chrome Web Store. Hence, it would be hard to label CrushClans as a malicious infection, considering how open it is about what it does. Also, sometimes the official websites for such applications are dysfunctional, but when we visited crushclans.com, we found that the website works just fine, and it allows users to play various Flash games online. So it would seem that with the extension added to your browser, you would get direct access to online games.
However, here you might say that you have never visited crushclans.com or Chrome Web Store to download the application. And yet it is there on your browser. How did that happen? Well, the official website is clearly not the only distribution source out there. Such adware applications often employ different distribution methods in order to cover a wider range. Although, for the most part, CrushClans spreads in the United States, it does not mean it cannot employ several distribution methods to reach as many personal computers as possible.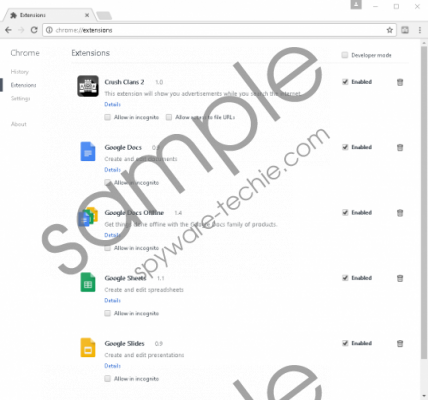 CrushClans screenshot
Scroll down for full removal instructions
The most common distribution method used by adware is software bundling. It means that several programs are bundled together in the same software package, and it is very often that users are not aware of that. For instance, you may download some freeware app from a third-party source, thinking you are about to install this one program you need. But if you breeze through the installation wizard, it is very likely that you will end up installing several other applications that will take you by surprise. Not to mention that they could slow down your computer and make your browser sluggish.
It is very often that users ignore such programs like CrushClans because they do not seem dangerous. But then again, we have to remember that it is an ADWARE program, and so it means it displays commercial content when you browse the web. The program's Terms of Use say that "This extension will show your advertisements while you search the Internet," and that they "use the revenue from this advertising to support our content." In other words, CrushClans provides advertising space for third parties to cover its development and maintenance costs, and to keep their flash gaming site free.
However, our main security concern is not the practice itself, but what it may entail. The problem is that the application will not review the third-party content it promotes. Hence, some of the links displayed in the ads could lead you to malware-associated websites. To put it simply, it is not recommended to click anything delivered by CrushClans because it may not be safe. Of course, the program does not try to steal or leak your personal information. It also will not do anything to infect you with malware. It is just that the nature of this application itself is rather questionable, and anyone could exploit it if they wanted to.
Luckily, it is easy to get rid of the adware program. Follow the instructions below to terminate the extension, and then do not forget to run a full system scan with the SpyHunter free scanner. After all, adware programs often come in packs, so you should probably look for other undesirable applications.
When your computer is safe and clean again, be sure to protect it from similar intruders by investing in a security application. Also, employ safe web browsing habits to avoid unfamiliar websites and fishy programs. Your computer's security should be one of your top priorities, because it extends to your personal information security, too.
How to Delete CrushClans
Launch your Chrome browser.
Press Alt+F simultaneously.
Click More tools on the drop-down menu.
Select Extensions and remove the plug-in from the list.
In non-techie terms:
CrushClans will be added to your browser when you accidentally install random freeware apps. It will not destroy your computer or steal your money. However, this program could annoy you with multiple commercial ads. It disrupts your web browsing experience and exposes you to undesirable content. It would be for the best to remove CrushClans from your system, and you can do it yourself without much difficulty. For more information, do not hesitate to leave us a comment.