Do you know what CrunchTravel is?
If you have noticed an unusual amount of third-party web content presented within your web browser while you were surfing the web, your operating system is likely infected with an adware application. One such program is known as CrunchTravel. If unfortunately, this is the case, you should take immediate measure to remove it, as it holds not beneficial features whatsoever. You must also be aware of the fact that this ad-supported program is advertised in a deceiving way. On its official website, you might see statements telling you to use it if you wish to receive best traveling related offers while browsing the web. Even though it sounds like an application worthy of having, be sure to avoid it since such statements are made by its developers just so they could trick unsuspecting users into downloading and installing their intrusive software. Make sure to bypass this adware program at all times as it will mostly cause disruptions to your daily online activities and could even expose your PC to suspicious web content. Read the rest of our report to realize why the complete removal of CrunchTravel is essential.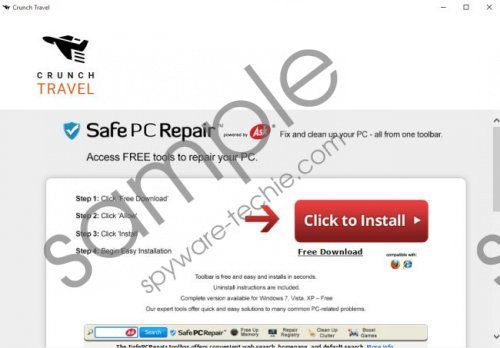 CrunchTravel screenshot
Scroll down for full removal instructions
As mentioned earlier the primary indication that CrunchTravel is active on your PC is an unusually large amount of third-party ads, pop-ups, and coupons presented to you within your browser as you are surfing the web. It goes without saying that such web content will not improve your online experience in any way; instead, it will make surfing the web an incredibly annoying and frustrating task, to put it mildly. At times, you might not be able to use your web browser in the way that you are used to simply due to the share amount of ads, pop-ups, and coupons presented by this adware. To continue web surfing, you might be forced to stop whatever you were doing to close every single ad and pop-up. It is important to note that such activity is possible because the adware program in question is in constant contact with adware servers. All of this is triggered by a background system service which is launched by this ad-supported program. Unfortunately, the name of this service is completely random; thus, identifying it could turn out to be a rather tricky task if you are not an advanced computer user. It is important to delete CrunchTravel in its entirety since ending the dubious system service might not be enough to stop the invasive activity altogether. Make sure to get rid of this adware as soon as it is found up and running on your operating system.
Unfortunately, there is something much more alarming about CrunchTravel than its invasive activity. Upon further investigation, malware researchers at Spyware-Techie.com have found out that in some cases this ad-supported application could turn out to be the reason other dubious programs are able to enter your operating system without a lot of trouble. As it turns out this unwanted application at times might work as a backdoor since it can initiate unauthorized connections to the Internet. During such connections, a silent download could take place. What is extremely alarming is the fact that your system might end up infected with some unknown malware. Therefore, we strongly advise you to run an in-depth analysis of your operating system for other dubious software if you happen to have this adware already active on your PC. It goes without saying that such activity is a major virtual threat that should not be tolerated under any circumstances. Do not take any chances with CrunchTravel and make sure to conduct its complete removal immediately. Use the detail removal guide that we provide below to terminate it in the most efficient way.
The removal procedure of CrunchTravel must be executed with your utmost attention because even a single missed step could result in an incomplete removal of this adware. It goes without saying that you do not want to find yourself in such a situation as just a few leftover files or registry keys could be more than enough for this adware to function in the way it does. Make sure to conduct an in-depth analysis of your operating system for potential leftovers linked to CrunchTravel. This way you will be sure that every single bit of this invasive adware application has been removed from your computer.
How to remove CrunchTravel from your computer
Windows 10
Type Control Panel into the search filed and select it
Click Uninstall a program.
Select CrunchTravel.
Click the Uninstall button.
Windows 8 and 8.1
Right-click your Task Bar.
Select Control Panel.
Click Uninstall a program.
Right-click CrunchTravel.
Select the Uninstall option.
Windows 7
Click the Windows button and select Control Panel.
Click Uninstall a program.
Select the malicious application and click Uninstall.
Windows XP
Tap the Windows key on your keyboard.
Select Control Panel and click Add or remove programs.
Double-click CrunchTravel.
Confirm that you want to remove it.
In non-techie terms:
If you do not wish to execute the removal of CrunchTravel manually since you are not confident in your computer skills, you should follow the alternative removal instructions that we provide below. This removal guide is designed in the way that it would help you terminate this ad-supported program in an automatic way.