Do you know what CrossRider virus is?
CrossRider virus is a term that can be used to refer to different browser extensions that are created using the CrossRide platform. CrossRide enables every computer user who has the basic knowledge how to use JavaScript to create browsers extensions. The platform enables the users to create plugins for Facebook and emails; it is also possible to create a browser add-on which inserts particular search results into the search results page, and so on. It is advisable to remove the so-called CrossRider virus from the PC as the browser plug-in that might have been created by online schemers, who seek to collect your personal information.
It is known that the CrossRider platform has been used to create some price comparison applications, including Price Grabber, Savings Vault, Supreme Savings, and many others. They display various offers when browsing online shops, such as ebay.com, amazon.com, dell.com, and the like. The coupons are provided according to the search queries that the user enters, which means that application monitors the user's browsing behavior while he or she is using Internet Explorer, Mozilla Firefox, and Google Chrome. Below you will find the instructions on how to uninstall those applications from the PC; however, manual removal may be insufficient, so a reliable scanner should be implemented.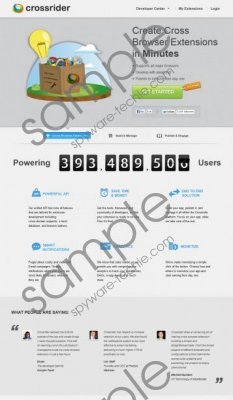 CrossRider virus screenshot
Scroll down for full removal instructions
In addition to the price comparison applications that may be labeled as CrossRider virus, another insecure browser extension using CrossRide is known to be in the wild. It is named LilyJade, and it is targeted at Facebook users. The threat is regarded as a worm, and it spreads by posting a link to a video on the user's Facebook wall. The user has to grand permission for installing the LilyJade plugin in order to view the video. Uninstall the unwanted toolbar and remove the link from your video in order to protect your friends' and your own privacy. Moreover, scan the computer with a powerful tool in order to find out whether some changes have been made within the system without your knowledge.
If you want to get rid of CrossRider virus, take action right now. Install SpyHunter as this application is capable of removing various computer infections. It can also shield the system from different types of computer threats and save your time by running automatic system scans. The sooner you implement the application, the sooner you can restore the settings of the system and browse the Internet safely.
How to remove CrossRider virus
Windows Vista and Windows 7
Open the Start menu and click Control Panel.
Select Uninstall a program.
Remove the unwanted application.
Windows XP
Open the Start menu and click Control Panel.
Select Add or Remove Programs.
Uninstall the unwanted application.
Windows 8
Press the Windows key.
Start typing control panel and click the Control Panel icon when it appears.
Click Uninstall a program and remove the unwanted application.
Once you uninstall the unwanted program, scan the computer with the scanner available below.
In non-techie terms:
CrossRider virus represents any application or browser add-on that is created by using the CrossRider platform. Due to the fact that it can be used by anyone, you should be aware that it can be used for illegal activities, too; so if you know that the settings of the browsers are modified by the so-called CrossRider virus, implement a spyware prevention tool right now.
Aliases: CrossRider plugin.