Do you know what Crimsolite is?
Crimsolite is an adware program that is related to such applications as Wisen Wizard, Surftastic Ads, Webfuii and others. It connects to affiliate advertising networks to generate content for the pop-up ads that appear on your screen while you browse the Internet. Crimsolite is promoted as a browser extension that can improve your overall web search, providing you with the most relevant search results, but computer security experts strongly recommend removing Crimsolite from your system, because such programs are often vulnerable to third party exploitation.
The most suspicious fact about Crimsolite is that the download is not available at the official website. The website is available at crimsolite.co and you can clearly see a green download button, but if you click it you get redirected to a blank web page. Actually, the same happens with the rest of the applications from the same group (some of which have been mentioned in the first paragraph) – none of them can be downloaded at the official home pages, which gives an impression that these adware applications are rather incomplete.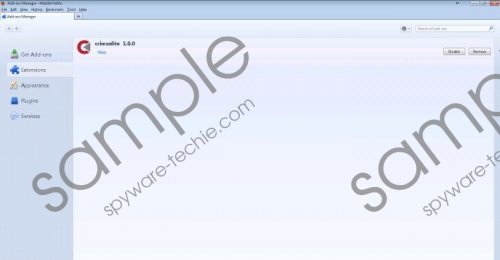 Crimsolite screenshot
Scroll down for full removal instructions
Since Crimsolite cannot be downloaded at the official website, it means that this program is usually bundled with freeware. Freeware applications are available for download at various third party file hosting pages. What is more, some of those websites have their own installers that might be bundled with adware as well. Therefore, if Crimsolite is installed on your computer, it means that you most probably have recently installed a freeware application that was bundled with additional software.
Crimsolite does not pose any direct computer security threat. It is actually more annoying than useful, considering that the application displays a lot commercial pop-ups. Some of those pop-ups may contain information related to your overall web browsing habits. It shows that Crimsolite collects data on what websites you visit and what you search online for, in order to provide you with content that is relevant to you. Nevertheless, it also means that via Crimsolite you could get exposed to corrupted online marketing schemes, and if the application is exploited by malevolent third parties, you could get infected with malware as well!
Naturally, malware infection is an extreme consequence and it does not occur every single day. Nevertheless, all security-minded users would want Crimsolite off their computers and luckily, that is not a hard thing to achieve. You simply need to remove Crimsolite via Control Panel and the extensions should disappear from your browser automatically.
However, do not forget to terminate all the other applications Crimsolite could be related to as well. If you do not known which programs needs to be removed, scan your computer with licensed antimalware tool that will help you to detect any potential threats.
How to remove Crimsolite
Windows 8
Slide mouse cursor to the bottom right of the desktop.
Wait for Charm bar to appear. Click Settings.
Go to Control Panel and select Uninstall a program.
Highlight Crimsolite and click Uninstall.
Windows Vista & Windows 7
Open Start menu and go to Control Panel.
Select Uninstall a program and remove Crimsolite.
Windows XP
Go to Start menu and click Settings.
Select Control Panel and open Add or remove programs.
Uninstall Crimsolite.
In non-techie terms:
If you have Crimsolite installed on your PC, it would be for the best to remove it right now. It is an adware application that could unintentionally expose you to various computer security threats. While you are at it, scan your computer with SpyHunter free scanner for any other potentially unwanted programs.
Aliases: Crimsolite virus.